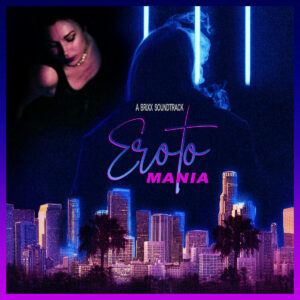 Brixx
Erotomania
Synthicide
"Soundtrack" and "EBM" are hardly terms one encounters side by side with any frequency, but given her previous EPs, the word that Australian producer Brixx's first full-length release would be presented as the soundtrack to a fictional 90s lesbian erotic thriller made all the sense in the world. The chilly but enthralling moods which come to mind when one thinks of that film genre are not dissimilar to those conjured by Sabine Brix's Trigger Identification and Conversion Therapy, and Erotomania fits perfectly into that overlap, linking Belgian-styled EBM, classic darkwave, and much more accessible contemporary electronics.
Mixing broad, cool pads, twinkling ornamentation, and even woodwinds, an instrumental like "Private Practice" (did I mention that the fictional film involved is about a psychologist drawn into a seductive client's "hedonistic world of clubs, drugs, and sex"?) captures the softer side of Brixx's anesthetic. Yet that number feels entirely of a piece with the rubbery club punch of "Out Of The Fog Into The Fire", a testament to both the execution of Erotomania's concept and the unity of Brix's light and deft production style.
Tapping fellow Aussie Alex Akers of the perennially overlooked Forces for "The Kindest Smile" makes all the sense in the world – few people understood the way EBM would go on to be hybridized into a range of other styles better than Akers did more than a decade ago, and that track's psychedelic palette is symbolic of how easily Erotomania fits into neighbouring genres. For instance, four out of five synthwave fans won't be able to tell the difference between the vintage body music genome of Alpha Sect's mix of "Crash On Highland Ave" and their own regular brand of nostalgia.
Erotomania is the sort of concept record which would immediately descend into overwrought indulgence in the hands of a less thoughtful producer. But in the case of Brixx, it feels like more of a logical next step than any LP free of such ambitions would. She's had the cooler, more cerebral yet still sensual side of body music staked out as her domain for a number of years, and is now beginning to build that terrain the sort of architecture it deserves.