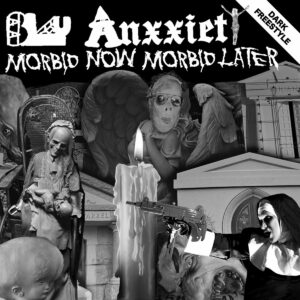 Blu Anxxiety
Morbid Now, Morbid Later
Toxic State Records
Having moved well beyond the ostensible deathrock origins of the project (and of its members' history before its formation), New York's Blu Anxxiety have been careening through a funhouse full of effectively every subgenre and neighbouring territory of goth music for the past couple of years, dishing plenty of pithy political sneering and bitchy ripostes along the way. Electing to call themselves "dark freestyle" is a nod to the band's distinctly NY latino take on goth, sure, but it's just as much an acknowledgement of just how many different musical motifs they're capable of welding to goth's already heavily mutated corpus. New LP Morbid Now, Morbid Later, while amplifying the electronic quotient of the band's sound, cinches what's made them such an irrepressible part of the current North American scene.
If you're new to Blue Anxxiety Morbidy Now, Morbid Later's rapid fire moves through current lo-fi EBM ("Macabre"), classic Suspiria-styled goth rock ("Sister Maria") and fog-machine-on-the-fritz darkwave ("500 Years") in its first half will be what you first notice. When frontman Dracula Orengo refers to himself as "an alien sex fiend", you get the sense that it's that band's omnivorousness and uncanny ability to transmogrify anything they touch into goth that he's connoting more than their legendary status. If you've been keeping pace with the band for the past few years (or are just a quick study), it'll be the canny swing on the more electronic and hip-hop flavoured tracks with which you'll be most taken. As per their own labelling, yes, closer "Running" sounds exactly what you'd expect a latin freestyle track topped by second wave goth rock crooning to sound like, and I'm having a hard time remembering the last time a goth band made a dancefloor bid sound as legitimately funky since Shriekback.
Orengo's Rozz-isms are still woven through Blue Anxxiety's music, but sitting in contrast to his synthpunk yowls and rapped verses, it all feels much more like a small part of the stylistic pastiche Morbid Now, Morbid Later. Factor in the clean and melodic darkwave synths and damn-near "Don't Fear The Reaper" type riffing on "Fog", and it's hard to accuse anyone in the band of staying pat for even a minute, let alone biting anyone's style in an extended fashion. "Goth rules everything around me," Orengo moans on "Negative Fantasy", and one gets the sense that he's maniacally driven to cram as many different shades of that muse into every corner of this record, a la one of Nick Blinko's horror vacui drawings. There's even a version of the century-old "Hearse Song" to boot, recast here as if were an ominous threat being read by an antagonist from "Judgment Night" or "The Warriors" (and yes, you'd best believe this record has at least one "can you dig it?" sample).
Irreverent but never empty-headed, Morbid Now, Morbid Later's thematics and influences are a reminder that goth's always had a political streak, it's always been as much about sheer, riotous fun as miserablism, and perhaps most importantly that its exact musical parameters have always been malleable. Recommended.