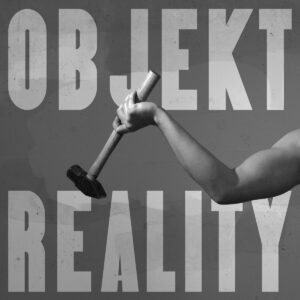 Mellow Code
Objekt Reality
self-released
Josh McVety's work as Mellow Code has been flitting about the US EBM scene for a minute, with a slew of splits and remix work raising the project's profile over the last year or so. Mellow Code's second full-length immediately displays a solid foundation in early EBM programming, but it's in the moody, melancholic, and yes, mellow harmonies and atmospheres layered atop those that gives Objekt Reality a register rarely found in modern body music.
Making a slight course adjustment four years on from first nominal LP Body Cuerpo, the acid elements of that record are shifted into the background on Objekt Reality, with a wider range of house and general electronic styles being woven in. The spaciness of "Bestraft fur Leben"'s ambient intro feels so wistful you feel the track owes more to Underworld than "Getting Closer" by the time it kicks in (despite its rhythmic similarity to the latter). Elsewhere, the chilly new beat melodies on "Absolute Weapon" point to a much smoother style of body music belied by the track's actually quite stark rhythmic programming.
That ambiguity of influence sets Mellow Code apart from almost its nominal peers in the current EBM scene. There's a certain kinship with Randolph & Mortimer's reevaluation of Sheffield's classic industrial sounds on "Dance Dead", but again, McVety's sense of the languid and dreamy, even on instrumental tracks like "Dance Dead", sets it apart from them. The way Karger Traum (another American band who share McVety's penchant for German vocals) worked keening, angsty Neue Deutsche Welle into their brand of EBM is another point of comparison, but Mellow Code is far more ethereal.
Despite its lo-fi recording, Objekt Reality doesn't feel tied to any one particular period, or even one particular retro trend. It's driven by a strain of melodicism you don't get much these days in EBM (which I'd say is lifted as much from Frankie Goes To Hollywood as more au courant italo influences), and while it's an EBM record through and through, it almost runs parallel with, but does not cross into, current club darkwave. As suited for late night introspection as it is modern dancefloors, Objekt Reality offers a welcome and fresh take on EBM. Recommended.