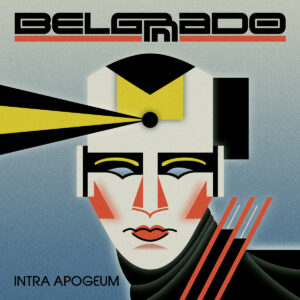 Belgrado
Intra Apogeum
La Vida Es Un Mus
It's been a long time since we heard from Barcelona's Belgrado; seven years since the dark post-punk/peace punk act's Obraz LP, to be precise. That's not just enough time for an individual band's concerns and aesthetic to have shifted, but also sufficient time for the broader genres in which a band operates to experience a sea change. Both of these possibilities seem to have occurred in the case of Intra Apogeum, a record which reflects how more melodic and synth-focused tunes have become part and parcel in post-punk of late.
One only need take a quick pass at new wave-driven tracks like "Rytmy Wszechświata" to get a sense of how Belgrado have developed over those years. Sure, the jangling, echoing guitar which flares out from solid, moody bass work has some connection to their previous material, but it's so dreamy, so languid, that it feels like it's there to simply add colour rather than drive the track. Instead, it's the roaming bass and electronic toms which propel it, with all manner of pastel synth pads filling out the space left by the guitar. The ear keeps being drawn to the harmonics and textures of the synthesizer on "Nie Zapomnę", which evokes children's birthday parties as much as darkwave, or on "Tęsknota" where gurgling analogue flourishes bubble up seemingly at random, giving the use of synths a much more warm and approachable sound than one might anticipate when a band with Belgrado's discography begins to underline electronics.
In spite of all of these changes, Intra Apogeum still has plenty of threads showcasing the elements which have given Belgrado an international audience (and made them such an impressive live act). Most notably, the vocals of Patrycja Proniewska especially resonate with the band's new sound despite still having the same swooping and airy croon which garnered well-earned comparisons to Xmal's Anja Huwe. Yes, she's singing in major keys a lot more than she used to, but the character of her voice still keeps the band linked to their roots.
As alluded to off the top, Belgrado are hardly the first band to have cut their teeth on darkly driving fare to have let off the gas and allowed a bit more colour into the mix. Spectres' slow transition to brighter new wave and Double Echo's dabbling with synthpop and italo disco come to mind, not to mention The Cure's Japanese Whispers-era transformation (though that could just be the similarity between the synth melody on Intra Apogeum's "Na Szlak" and that of "Let's Go To Bed"). Whether a conscious choice on the part of the band or simply a sign of the times, it's a pleasant enough move out of the shadows and into the gel lights.