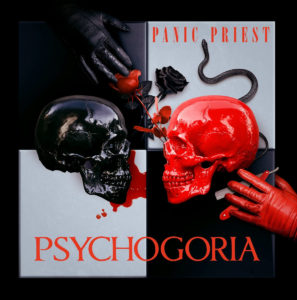 Panic Priest
Psychogoria
Negative Gain Productions/Midnight Mannequin Records
In our recent conversation with him, Jack Armondo stated that his instinctive response to lockdown wasn't to create a weighty and insular record, but rather to recreate the fun and parties he and the rest of us were missing so much. The third Panic Priest LP, Psychogoria, certainly succeeds in that regard, sending a host of darkwave, goth rock, and AM radio sounds careening through a roller coaster of melody and monsters.
The sharp sense for driving, crooning goth rock Armondo showed off on 2020's Second Seduction is still apparent on tunes like "When Daylight Disappears" and "Angelsteal" (the latter of which might lift the string melody from "Cuts You Up" at one point). But rather than adopting a traditionalist's approach to the genre, the record shoots those darker numbers through with pop flourish and colour, and regularly works in modern darkwave synths to boot. "Your Tell Tale Heart" speaks to the latter, adorning a simple enough darkwave foundation in both horror soundtrack sound design and grandiose vocal pop.
For all of its dalliances in horror, Psychogoria isn't afraid to overtly draw upon some universally known acts. When you're trading in influences as well-known and as exactingly produced as this record's (The Cult, Depeche Mode), there's always the risk of your own work sounding thin by comparison, but on the whole Armondo walks the line. The Mode-isms of "She's My Guy" are marshaled nicely by his even and confident baritone, and the giallo synths which are crammed into just about every corner of the record lend it a sense of carnivalesque buoyancy.
Between the title track's imagery, which is ripped straight from 80s VHS horror, and a dead-on cover of stomping italo disco classic "Self Control", Armondo's delivered handily on his desire to produce something dark yet distinctly fun with Psychogoria. That's likely a taller order than a more traditionally bleak outing in some respects, but we're glad Panic Priest is taking the business of fun so seriously as we've been heading back out to the clubs this past year.