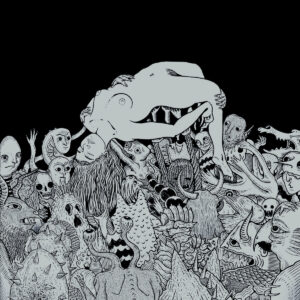 Blind Delon
La Métamorphose
VEYL
Toulouse-based post-punk trio Blind Delon have a certain weight to their material, not necessarily a heaviness as we understand that term in relation to rock music, but a carriage and posture that implies gravitas. It's a product of their oppressive atmospherics and alternating fits of continental ennui and pique, aspects of their sound that are pushed to the forefront of new album La Métamorphose. In practice, it's also what makes the band read as capital-G goth; the band have rarely sounded so close to the second wave as they do on the plodding ascending guitar and deep-voiced vocals of opener "Le Crépuscule" or on the riffing-rager that is Poison Point collab "L'Envie".
That doesn't mean that the band's longstanding use of electronics for bass and other elements are absent – vocalist and producer Fivequestionmarks' guest turn on "La Violence" rides on top of a throbbing disco-punk synth bassline that is more manic than mopey, and "L'Homme" makes a meal of synthetic orchestration and giallo-wave markers. Rarely however has Blind Delon indulged goth rock's big rock theatrics to this degree; working with Curses on "La Mort", the pairing that could have easily gone full electro-darkwave instead lets crunchy guitar-lines and electric-bass lead into a big singalong chorus, of "Ophelia/I heard you say", about as gothic a reference as they come.
Whether deliberate or not, the shift is less reinvention than it is the placement of emphasis on what was already there. It's also not a cage in terms of the song stylings they touch on across La Métamorphose; the instrumental title track that closes the record builds from a lonely melody into a crashing wave of guitar noise that you could find just as easily on a post-rock track, and the choked vocals of "La Noyade" add some crust to the song's snappy drum machine rhythm. If indeed this is Blind Delon intentionally leaning further towards goth-rock revivalism, than they've certainly shown not only a knack for it, but that the underpinnings for the style have been present in their work all along.