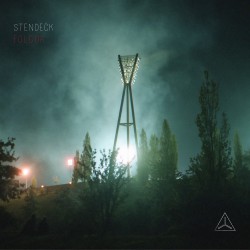 Stendeck
Folgor
Tympanik
The layoff between 2011's excellent Scintilla and Folgor was a long one for Stendeck, AKA Alessandro Zampieri. Regardless of reason, it's an absence which serves the Swiss producer's sixth album well: the moods and dense production already mapped out on earlier records sound fresh again, and the level up in terms of composition and canny integration of styles Folgor heralds is all the more apparent.
Perhaps most immediately noticeable, Folgor integrates plenty of sounds from outside of the general rhythmic noise/IDM world without ever straying too far from the emotional core of downtempo melody that's been a part of the project for years. "Nobody Lives Here Anymore" and "About Gravity And The Undefined Science Of Human Attraction" aren't too far off from the past few years of bass and trap (and even vintage Burial), but don't feel like abrupt turns from the rest of the album or Stendeck's sound on the whole (and certainly aren't a change from Zampieri's verbose titling). Although "The Curious Disease Of The Howling Man" has a vintage technoid feel, the pads and slow chimes spliced between its echoing breaks present that millennial sound in a nostalgic and reflective light well over a decade on, rather than trying to present it wholly as a product of today.
Zampieri's also found new ways of keeping rhythm at the center of most of his compositions without retreading percussive ground. Beats are folded into the corners of basses, smoothed and torqued out with nary a uniform sound to be tracked throughout Folgor. "In Deep Waters We Fall Apart" finds massive, cathedral-sized space in its processional stomp even as the mix positively bubbles with tertiary percussion lobbed in for texture.
Perhaps most impressive and indicative of just how much was picked up between Scintilla and this record are the big shifts in mood and construction Zampieri now smoothly floats between in the course of not especially lengthy tunes. Yeah, there are still tunes like the (naturally) melancholy "Sad Lovers' Song" and vintage house by way of Vangelis club jam "Momentary Pleasure" which hold their course throughout, but other tracks mutate incredibly quickly. "Tonight Is Forever"'s counterpoint between smooth harmonic pads and gnarled, sickly percussion feels like a hi-def trek through Fuck Buttons terrain. "Trying To Hold Every Little Second That Flies Away" begins as an almost impressionist clash of piano and scaling beats, before resolving itself to a hypnotic and minimalist fusion of the two.
Between such inspired compositional moves and varied sound design (at times wholly airy, at others completely submerged), Folgor retains an immediate hold on the listener which Scintilla, despite its high points, occasionally lost due to sheer quantity. While slightly shorter than its predecessor, Folgor feels like a far more present and necessary listen, and retains tour de force power throughout. An impressive leap forward for its creator, Folgor is highly recommended.