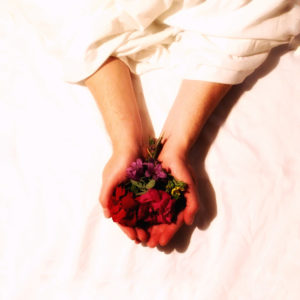 Cygnets
Swansongs
self-released
The charms of Edmonton's Cygnets were as palpable on their varied LPs as they were on the festival stages where we first caught them. The trio's combo of glam, new wave, britpop, and goth sounds could have come across as being far too hammy or excessive for its own good were Chris Bruce and Dan Snow not so adept at honing their influences down into tightly paced and instantly memorable tunes, or if Logan Turner didn't have the perfect combo of pipes and charisma a band of their ilk needs in a frontman. After a few years of inactivity, Swansongs arrives, confirming the band's end and bringing together their last recorded work – two 2017 sessions dedicated to revisiting some of the band's earliest and unreleased songs.
There was precious little that was subtle about Cygnets on most days, and Swansongs doesn't play anything coy. The New Order-isms of the furiously anthemic opener "My Dead Self Again" are overt and unabashed, but Turner's Rimbaud-like, sensory-overload reverie ensures you don't forget who you're actually listening to. "Herself Is But A Voice" (previously released in a handful of remix iterations, now here in its unaltered form) serves as a great reminder of how easily Cygnets could command the brighter sides of synthpop and new wave while still delivering all of the emotion and pathos that a song referencing Persephone and Lawrence requires.
Given that the songs which have been reprised for Swansongs are among the band's oldest, it's perhaps not surprising that there's less of the overt gloom the trio would. Oh, there's drama and intensity aplenty, as the raging "Inferno" shows off, but mid-period darkwave cuts like "Gallows" or the morbid elegance of final original LP Alone/Togehter are nowhere to be found. Instead, much the material on Swansongs is shot through with a distinctly disco flair, cropping up in the compressed piano thump of "Venus And The Wraiths" and the Moroder pulse of "Call It A Night", a charming, Pulp-esque tale of a hook-up turned awkward.
Parting may or may not be such sweet sorrow, but Cygnets' apothocary is true and their drugs quick. Swansongs shows off both the band's polished final era and their earliest, most heart-on-sleeve ambitions. We won't lie – we'd love to see the band back on festival stages someday, but if this is indeed the last word from Cygnets we're glad they gave us the chance to wish them a proper farewell.