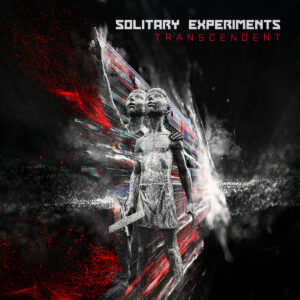 Solitary Experiments
Transcendent
Out of Line
It's hard to know how to feel about a new Solitary Experiments, and for reasons that don't necessarily have anything to do with the band themselves. Now some eight albums deep in a career that has spanned more than a quarter century, the Berlin-based quartet make music in a distinctly European flavoured form of electro descended from classic dark electro, synthpop and the futurepop movement. As a listener, and especially a North American listener, that makes parsing Transcendent a little more thorny – the style still has fans and adherents and gets spins in some clubs, but for it to rise above feeling dated or out of step with the last decade of stylistic evolution the songwriting and execution needs to not only be on point, but it needs to, well, transcend.
And that's maybe where Solitary Experiments' own personality and history comes in to play. As an act they've never been ultra-consistent on an album to album basis, always competent at a minimum, but when they do raise the bar with an absolute classic club cut, it's been for a single track, rather than the whole of a release. Add the fact that the band has moved back and forth between harder sounds and synthpop styled sounds across a single release, coupled with the large number of guest vocalists on Transcendent, and it seems to bring the group's identity issues to the fore – as with so many of their best moments, the standout tracks here feel like like well executed genre exercises that lack any trademark quality you can link to the band themselves.
Does that mean there's nothing to enjoy on the record? Certainly not; Solitary Experiments are good at what they do, and their mutable personality leaves a lot of room for the band and their guests to try different things out. On repeated listens I found the cod-millennial aggrotech programming and tempered vocals of "Discipline" (which even has full on rhythmic Douglas McCarthy ad libs tossed into the mix) to be a fun and energetic listen, and "Träumen", which features a regal duetted vocal courtesy of In Strict Confidence's Nina De Lianin has that rising emotion of the best classic futurepop. Equally grand is "The Great Unknown", a propulsive vehicle for Kirlian Camera's Elena Alice Fossi, a cut whose workmanlike programming and arrangement is elevated by Fossi's charisma and presence.
The rest of the record is fine, but just fine, and that's a shame because it has the makings of something much better than average. A bubbly and bright synthpop cut like "So Bizarre" has potential, but is robbed of impact by being positioned after two lesser cuts in the same style, and the bouncy futurepop of its first three cuts – "Wonderland", "Heart of Stone", and "Every Now and Then" – is diluted by weak hooks and choruses. Mileage will vary of course, but In that sense Transcendent is the quintessentially inconsistent Solitary Experiments record: competent throughout, with some moments that rise above that bar.