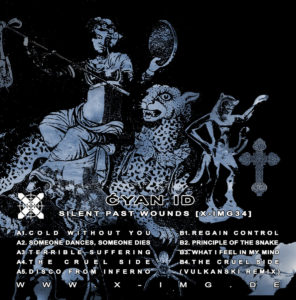 Cyan ID
Silent Past Wounds
X-IMG
Across a trio of EPs on X-IMG, OSM, and Detriti, Georgian producer Giorgi Bekurashvili's work as Cyan ID has settled upon a throbbing electro groove which is much more about pulse than abrasion. The style seems a good fit for a return to X-IMG for Cyan ID's first full-length, as Bekurashvili's style is very much sympatico with label founder Emad Dabiri's SARIN. Silent Past Wounds is a nice jump-on for anyone who's missed Bekurashvili's extant work, bringing just enough variety to stand alone as an LP while still offering lots of dancefloor options.
The synth toms which pepper opening track "Cold Without You" point to Bekurashvili's interest in throwback electro and italo, but more importantly let the somewhat pressed average TBM listener know that they're not going to be pummeled into submission by concrete kicks. Instead, it's the rubbery and hypnotic bass programming on the track which will be the record's throughline. There are plenty of detours from that core groove, like the combination of distorted, electro-industrial yelps and pinchy minimal/coldwave synths on "Someone Dances, Someone Dies", but the steady gallop of "Disco From The Inferno" and the '90s dark electro-goes-giallo' bounce of "Regain Control" are more representative.
Regardless of the particulars, Bekurashvili's ability to maintain a hypnotic air and not constantly go for the jugular either in terms of percussion or general noise lends the whole record a real sense of flexibility and unity. I kept finding it of a piece with Dead Husband and Fostercare, other acts who weren't as fixated with making the intersection of techno and body music as prohibitively dark and heavy as humanly possible.
On a technical note, the bass on about half of Silent Past Wounds is mastered incredibly hot, pushing out a good amount of the midrange out of the mix on each of the systems and headphones I spun the record on, and will likely necessitate some extra EQ wizardry from DJs. It's a minor issue which is perhaps only noticeable because Silent Past Wounds invites back to front listens, a rarity in releases of this stripe.