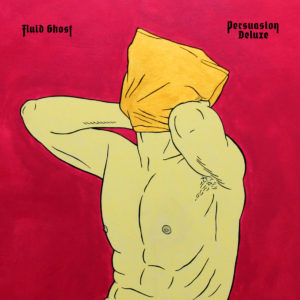 Fluid Ghost
Persuasion Deluxe
Mother Solitude Records
Adriano Iacoangeli is one half of Italian/French duo Echoberyl, whose 2021 LP (their third in as many years) showed a nice blend of classic European darkwave stylings with some hints of the au courant electro-infused take on the genre. Iacoangeli's solo project Fluid Ghost almost plays as the inverse of his main outlet, going much deeper into electronic territory, with the hints of darkwave varying depending on each track. Persuasion Deluxe follows two 2021 EPs in the style, and despite a few lesser moments shows the producer's deft hand at putting together dancefloor numbers.
Where a lot of preceding Fluid Ghost tracks had taken a mid-tempo slow boil approach, this album starts strong with "Persuasion" and "I'm Done Being Drained"; the former a speedy and sinister bit of dancefloor electro with spooky detuned leads and bells scattered across its sleek arrangement, the latter a fat techno-flavoured banger with a squelchy bassline and aggressive gated snare sound, both tracks embellished with growl-whispered vocals. Putting those tracks up front works both to introduce the record's keep-it-moving approach, and opens the door for Iacoangeli to bring some more sounds into the mix.
The results of those explorations can be a bit mixed, admittedly – the techno-EBM of "Midnight Rendez-Vous" is effectively hypnotic and the funky haunted synth-disco of "Sweat" are effective twists on Fluid Ghost's sound. The baroque synthwave of "Je te respire", while not unpleasant, feels like a break from the record's overall aesthetic. Still, you can't help but admire Fluid Ghost's desire to switch things up on a track to track basis; he could have easily built out whole EPs from the templates established on the vocodered electro of "Superstitious", or the grinding, clanging synthpop-by-way-of-the-abbatoir "Desert Glitch", but instead moves on to try something different. That makes it easier to overlook a slightly weaker or less memorable composition like "Heatwave" or "Earthless", because the next track will inevitably bring something new to the table.
If the strength of Persuasion Deluxe lies in a restless desire to change up its approach, than you also have to commend it for cohering into a listenable album and not just a collection of tracks. For every variation Iacoangeli undertakes, he manages to maintain a simple but effective flavour to his design and presentation, keeping his mixes clean and his arrangements uncluttered. With so many proven dark avenues to venture down, the possibilities for Fluid Ghost are myriad.