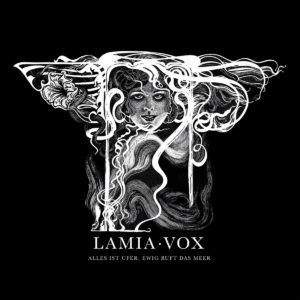 Lamia Vox
Alles ist Ufer. Ewig ruft das Meer
Cyclic Law
The richly adorned dark ambient of Lamia Vox made a strong impression on us in 2013 via Sigillum Diaboli, wherein Alina Antonova brought heady elements of ritual and martial industrial into play. After a near seven-year absence (and a relocation to Prague from Russia), Antonova's return with Alles ist Ufer. Ewig ruft das Meer takes Lamia Vox into some new territory, and finds fitting instrumentation for its ambitious aesthetic goals.
While there are still  rhythmic passages reminiscent of the martial side of Siggilum Diaboli – see the austere strings and timpanis of "Song Of Destiny" – a lot has been added to Lamia Vox in the intervening years. Vocals are given plenty of space, with Antonova alternately murmuring incantation up front and sliding keening wails into the back of arrangements. Nods to symbolist poetry and other markers of the fin de siècle are made with both hushed solemnity and ecstatic gusto.
With these poetic and thematic interests in mind, Alles ist Ufer often drifts into cryptic and secretive moods and finds instrumentation to suit. Delicate but incisive hammered dulcimer lines on "Eternity" and "Dionysios" suggest Dead Can Dance or Judgement Of Paris, and the acoustic percussion on the latter nicely connotes mystery cults and rites. This shift to include more neo-classical instrumentation is, at times, made part of the bombastic side of Lamia Vox, as on the rapturous swirl of "I Call The Stars On High", but Antonova's ability to deliver those elements in softer compositions leaves just as much, if not more of an impression.
Whether grandiose or secluded, Antonova shows a strong talent for sculpting and executing her compositions on Alles ist Ufer. Ewig ruft das Meer. No elements wear out their welcome, and while there's thematic unity throughout the (economically brief) record, each piece develops and stands on its own. It's easy to underwrite dark ambient and just as easy to overwrite martial industrial, but as an entity Lamia Vox has a canny sense of how to best catalyze these and its myriad other sounds.