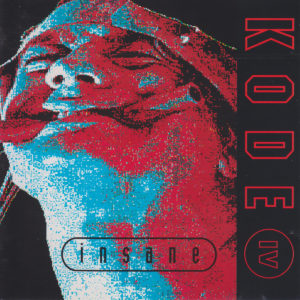 Kode IV
Insane
Ceiba Records
What Is It?
Decades before the Berlin school of techno-body music materialized, there was Kode IV. The San Francisco based project founded by Peter Ziegelmeier and Hans Schiller in 1989 put out three albums that bridged the sample-heavy sounds of nascent trance music (Ziegelmeier would go on to co-found the influential trance label Ceiba Records after Schiller's untimely passing in 1994) and the mid-eighties EBM sound. The project's extensive use of horror movie and guitar samples and gritty synths held a lot of appeal for industrial clubs and DJs of the era, with all three LPs and numerous singles seeing release via Belgium's KK Records. Following last year's digital remaster of the 1990 debut Possessed, their excellent sophomore release from 1992 Insane has had the same clean-up for a Bandcamp reissue.
What's On It?
The 24-bit remaster of Insane is a barebones affair in terms of what's on it; you get the original LP tracks, with a nice, beefed up mix that brings up the general volume as well as the weight of the kicks and synths to modern standards. That may be simply be a function of the scarcity of bonus material to add to the package; unlike Insane or the follow-up Silicon Civillization there isn't much in the way of contemporary remixes or 12 inch edits to draw from.
Honestly though, the album is strong enough to warrant a look on its base merits. Tracks like "Accelerate" and "Disobey" still go hard, the former with its sampling of the THX intro sound and chopped up metal riffs, the latter with its horror movie sound track organ and choirs, all backed by robust bass synths and drum-machine programming that recalls new beat's darker, speedier moments. Later in the decade Richie Hawtin would make techno's debt to electronic body music with the inclusion of Nitzer Ebb on his iconic Decks EFX and 909 mix, but Kode IV was already mining that connection with "Fear into Power"'s gang-chant vocals and "Success"'s interpolation of the bassline from "Let Your Body Learn".
Admittedly some of the songs show their age: the quaint early nineties flavour of the title track comes through in its hoover synths and mildly corny invocation of the theme from Psycho, and "Truth" signposts the project's eventual drift towards goa via the tabla and sitar samples and breaks. That said, the programming on "Fight" has plenty in common with the emerging electro-industrial sound of the time, and could be spun in a set of comparably styled music today without raising an eyebrow.
Who should buy it?
At $7 US for the remaster, Insane is an easy buy to justify, either as a new listener, or a fan of the record who wouldn't mind a little more juice in the mix for DJing or headphone listening. Especially recommended for those who may have heard a few tracks by the band on comps or mixes and are interested in finding out more about a surprisingly varied and in some ways prescient project.