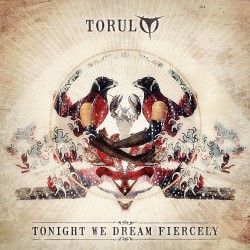 Torul
Tonight We Dream Fiercely
Infacted/Metropolis
The third LP from Slovenia's Torul is another collection of slickly produced dark synthpop which switches between dour melancholy and spritely bounce. While the production and arrangements (always a key concern with fare like this) are solid throughout, Tonight We Dream Fiercely lives and dies by the individual execution of the various styles and moods it aims for.
Tonight We Dream Fiercely starts out with all of the ambition and promise of its title. "The Sun!" lays a gritty mesh of distortion overtop a deep bassline whose stereo pans run flush to its notes. An overlay of lightly tapped melodic leads only accentuates how thick the bass feels, while Jan Jenko's voice adopts a cool wail. It's an excellent introduction to how much drama and oomph Torul can convey when they're on point. "The Fall" offers a much lighter sound but still delivers unease with sparse handclaps and plenty of space for vocals, bringing to mind slick work from recent Tears For Fears-type journeyman work from Mirrors, Strangers, Hurts, and the like.
After this initial suite of varied and well-thought out pieces, though, things get a bit dire. The tightly sequenced, traditional synthpop club bids "I'm Still Here" and "All In" are more immediate and club friendly than the preceding tracks, but feel much more rote and thin. Given that they're going for the jugular beat-wise, you'd expect the hooks to be doozies, but they fall flat and aren't exactly memorable. Up next is an unnecessary cover of "Mad World", which is swiftly becoming the "Hallelujah" of the synth world (a development ironically facilitated by an acoustic cover), a standard which no one needs to hear again but which is all too often pulled out as emotional shorthand at the drop of a hat. At this point, Tonight We Dream Fiercely is in danger of Icarus-level overreach and hubris.
Thankfully, things even out a bit from there 'til the end, with chiller pieces like "A Leak" and "Always Embraced" bootstrapping the sequencing of earlier miscues to more melancholy moods. Closer "End Of Story" is perhaps the most forthright of Torul's efforts in its debt to the Mode, cleaving pretty close to "Question Of Time" with some more rubbery basslines, but it nicely rounds out the suaver programming the record's capable of in its best moments, and Jenko's vocals don't feel as forced in their Gahanian swoops as they did on "I'm Still Here".
Best when it weds mid-tempo nodders with dramatic arrangements (not unlike those we recently heard from Legend), Tonight We Dream Fiercely definitely has its high points, though it's a bumpy ride. Torul show themselves to be in possession of all of the elements necessary to make a truly great, back to front monster; here's hoping the next LP makes that final push.