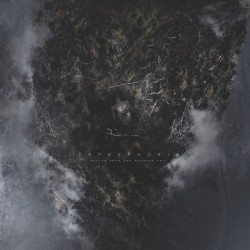 Taphephobia
Escape From The Mundane Self
Cyclic Law
Norway's Ketil Søraker has been releasing dark ambient as Taphephobia since 2007, but Escape From The Mundane Self – his first release for Cyclic Law and sixth overall full-length – marks my first encounter with his work. That my extant forays into dark ambient haven't touched upon Taphephobia is perhaps not surprising; while still unmistakably of the style, the instrumentation and (more importantly) the moods of Escape break from the genre in some unexpected and rewarding ways.
Apparently the majority of the sounds Søraker uses to build compositions come from manipulated and processed guitars. While some such passages are easily identifiable on the album, others would have been easily mistaken for synth pads had that tidbit remained unknown, and plenty more don't really sound like either. Still, a bit of info like that draws the listener's ear to the specific timbre of Taphephobia's sounds, and guitar-sourced or otherwise, they have a tremoring feel that provides a sense of frailty which you don't often hear in a genre dominated by impassive soundscapes and grinds.
These simple, shimmering harmonies (which make me think of Glenn Branca on a rainy day) quickly became my primary focus after a few tracks and proved to reward multiple listenings. The slight hint of vibrato on "Earth Bound Spirit"'s harmonies both makes them more affecting and puts the atmospheric washes in the background into relief. As on "My Worthless Self", the points of reference which come to mind more easily on that track than any specifically dark ambient artists (unless you want to include Dead Voices On Air) are names like Piano Magic, the melancholy chamber pop project.
Escape From The Mundane Self is not wholly free of bleak misanthropy, as the title suggests: this is still dark ambient, the band name refers to the fear of premature burial, and there's an Aileen Wuornos sample fer cryin' out loud. Still, Søraker brings much more to the table than ego-annihilating zone-outs, instead offering a vulnerable and emotive suite of setpieces. Recommended.
Escape From The Mundane Self will be released on October 8th. Pre-order it.