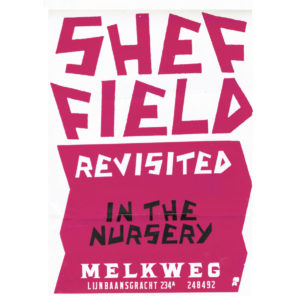 In The Nursery
Sheffield Revisited – Melkweg, 1985
self-released
Last year's reissue of In The Nursery's Twins captured the transformation of the Humberstone brothers' project from an exercise in post-punk severity into the engine of orchestral expression for which it would gain renown. Open to interpretation as a precursor to that transformation, this live tape from a 1985 Dutch showcase featuring other Sheffield acts documents the band at their rawest, as well as their last work as a trio before Anthony Bennett's departure. Originally appearing on the B-side to the hopelessly out-of-print Angel Chrome tape, the set's carried by echoing bass and desperate vocals, alternately howling and furtively whispering…and yes, the absolutely storming percussion, sometimes tightly frantic, sometimes martially controlled. From offering the band's earliest compositions like "Witness (To A Scream)" in as violent a form as could be conceived, to a proto version of "To The Faithful" so different as to be an entirely separate composition, to Bennett's experimental collages, this is a rough and tumble document of In The Nursery's early metamorphoses.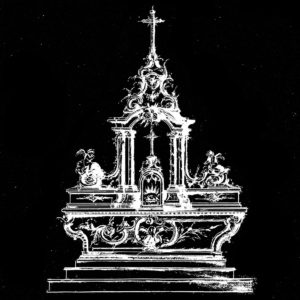 Twin Tribes
Altars
Negative Gain Productions
Remix albums have long since taken the spot that used to be occupied by live albums, which is to say the lower-effort placeholder release between "real" albums. For every considered, curated remix LP experience there's a collection of mixes done on the cheap filled with labelmates and unknowns whose main purpose is to highlight how much better the original versions of the songs were. Thankfully Texas post-punkers Twin Tribes' Altars falls squarely in the former camp. Drawing from both the duo's debut Shadows and it's follow-up Ceremony, an enviable line-up of currently relevant darkwave acts put their own stamp on Twin Tribes' moody, danceable tunes. Especially notable is the Cult of Alia remix of Perdidos which replaces the peppy bounce of the deep-cut original with a slow-rolling stacatto rhythm, deepening it's groove while maintaining its gloomy atmosphere. Listeners may also find themselves taken with NITE's piano-laced take on "Upir", an addition that altars the mood of the track from despair to sweet melancholy. There are legitimately no duds here though, from Chicago's dreamy Wingtips' reinvention of "Exilio" as an electro club banger, to Ash Code's slight tweaks to up the dancefloor ante on new club classic "Fantasmas", every remixer comes through with something of value. Few if any remix provide as much value to DJs and casual listeners alike as Altars does, a genuine standout in a format that generally invites mediocrity.