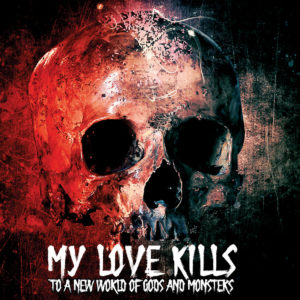 My Love Kills
To A New World Of Gods And Monsters
Progress Productions
We've had Sweden's My Love Kills on our radar since their first singles made their way online three years ago. Even then the duo's focus on smooth synth melodies and harmonics set them apart from other bands in the EBM/electro-industrial milieu, but they've steadily dialed in their sound across a handful of self-released EPs and LPs. Their new record receiving a wider release thanks to Progress has made for some fortuitous timing: To A New World Of Gods And Monsters is both their strongest and most ambitious effort yet, and gives new listeners an effective and entertaining tour through their sound.
From the outset, My Love Kills distinguished themselves by stressing melodies to a degree rarely found in electro-industrial, and that's key to the success of To A New World Of Gods And Monsters as well. From the way opener "Back To Life" counters the traditional sixteenth note pulse of its verses with a surprisingly warm chorus to the gothic harmonies of "Lettre pour tes Funerailles", there's plenty of tonal prettiness afoot. Notably, while it's well-produced and very sharply arranged, the record doesn't suffer from the sort of overproduction often found on European electro records which sacrifice immediacy for a surfeit of sound, often smothering the hooks in the process. Shuffling in just a bit of guitar texture, and moving back and forth between English and French vocals also works to keeps things fresh.
It needs to be stated that while My Love Kills Wear their influences on their sleeve, they don't sound slavish in their debt, nor are they afraid to jump between styles. Sure, there's plenty of the Puppyism which marked their early work, but there are plenty of other sounds in the mix. "La Crépuscule du dieu" brings early Steril to mind, while the solemn sturm und drang of "Future Hell" feels like peak-era FLA.
While it was always easy enough to spot classic influences in MLK's records, at this point it feels more accurate to place them in the company of Necro Facility, Run Level Zero, and Dead When I Found Her. I.e., they're a band who haven't shied away from the challenge of brightening the well-trodden electro-industrial template, and thus implicitly demanding to be judged on the basis of their own compositional chops, rather than their ability to scratch a nostalgia itch. Recommended.