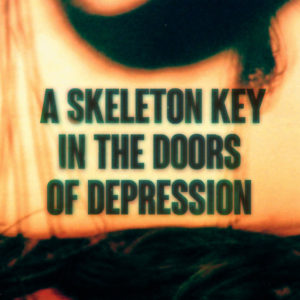 Youth Code / King Yosef
A Skeleton Key In The Doors Of Depression
self-released
To those who've been tracking them since their demo days, A Skeleton Key In The Doors Of Depression feels like the logical progression of where Youth Code have come from and where they've been heading, but that doesn't make it any less bracing. In 28 minutes their collab with producer/vocalist King Yosef circumscribes the grimy empire of EBM and electro-industrial Sara Taylor and Ryan George have established, and strikes out for the metal and hardcore territories from which all three contributors to Skeleton Key claim descent.
Those familiar with Yosef only through his hip-hop beatmaking may be surprised at how how easily his aesthetic integrates with Youth Code's (the clarion chimes and minimal kicks of "The World Stage"'s chorus being one of the few moments where that pedigree is apparent). His own digital hardcore beatdowns like "Pity Case" may not have the same origins in post-industrial as Youth Code's discography, but the similarities in terms of sonics in the here and now can't be denied, and are ported over to Skeleton Key with punishing ease. Halftime breakdowns like those of "A Mother's Love" and "Head Underwater" are perfectly suited to grainy industrial programming (as YC have been proving since "Consuming Guilt", at least). It's not clear who's responsible for bringing some black metal-styled picking to closing epic "Finally Docked" (hell, the album title would fit a DSBM release well) but it pairs well with the melancholy lament of the keys descending beneath clatter and Yosef and Taylor's traded invective.
Intriguingly, Yosef's hardcore vocals act as something of an anchor on the record and allow Taylor room to explore different approaches in her own distinctive style. The doubled up and growled melody of "Looking Down"'s chorus is arresting, especially in the context of the syncopated delivery both Yosef and Taylor employ on the verses where each vocalist hammerss syllables into the track's cracking snare. Pre-release single "Burner" has the duo trading off desperate verses, doubling one another before splitting off into a soaring chorus and a brutal breakdown, each singer informed by the other's approach. It's a tactic that defines the record's hybridized sound; in particular many tracks seem to coalesce around the vocals. Hear how the shapeless intro of "Deathsafe" eventually conforms to Taylor's anguished howl, then structurally parts to allow Yosef a moment of half-spoken menace before lifting Taylor aloft for her cathartic outro, her repeated "I've had enough/I'm drowning" sounding less like a cry for help than a steel-eyed warning.
It's been clear since well before A Skeleton Key in the Doors of Depression that Youth Code have an interest in taking apart industrial, metal, and hardcore sounds and reconfiguring them into something new and different. In working with King Yosef they've found a collaborator who not only contributes to that continued growth, but whose own genre explorations inform and elevate their evolution. King Yosef and Youth Code meet on some blasted, barren common ground, and from it build something bracing and new. Recommended.