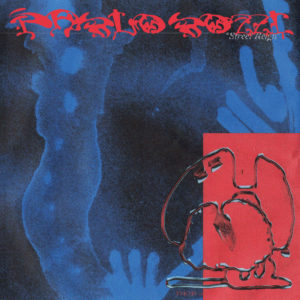 Pablo Bozzi
Street Reing
Pinkman
While he earned his EBM bonafides in the well-regarded techno crossover project Imperial Black Unit with Thomas Chalandon, Pablo Bozzi has become a cornerstone producer in 2022's rising wave of italo disco influenced body music. Both in his work with Kendal Mulla as Infravision and under his own name, Bozzi has released a deluge of tracks that combine the strict tempo of electronic body music with italo's playful dancefloor melodics. Following closely after the excellent Ghost of a Chance comes Street Reign, a record that adds a healthy dollop of goa-trance markers to Bozzi's toolkit.
The end result of that mixture is music that hearkens back to certain strains of late 90s EBM, and even commercial big beat. It's noticeable in the wormy acid lines on "Hurricane Alley" that mirror the track's plucky leads and add an edge of the sinister it buzzy synth strings. Elsewhere, on "Overload" you can hear goa's widescreen scope come into view via the use of big reverbs and trance-builds, albeit slowed to a slower tempo than they might normally inhabit and paired with reverbed tom fills and snare hits that keep italo in the frame. You can even detect little hints of futurepop's optimistic futurism in the Vangelis-lite sweeps of the title track, a sound that evokes open space and by extension breadth and possibility.
The EP's most distinctive moments occur when Bozzi works slower bpms, establishing grooves that don't rely on an unyielding kick-snare pattern. The elasticity of the rhythm on "Abyss" gives the song a funky menace, its bouncy bassline, scratchy drum rolls and lo-fi vocal samples all corralled by gated pads that distinctly feel like classic trance. "Mental Wave" amps up the stuttering acid sounds in the mix, allowing them space between the track's subdued drums to act as both the track's rhythmic engine and its primary musical motif.
The thing about being associated with a specific musical moment, as Bozzi is with the current crop of italo-influenced producers, is that it can become as much of a constraint as it is a calling card. Street Reign does a good job of reminding us that Pablo Bozzi is more than a one-trick dancefloor pony, and allows him some room to use some sounds and ideas that add considerably to his already heady mixture of styles.