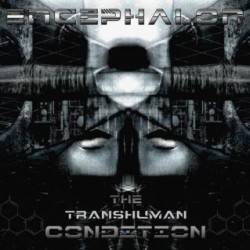 Encephalon
The Transhuman Condition
Dependent/Artoffact, 2011
Despite having been in existence for more than half a decade, Encephalon, the Ottawa trio made up of childhood friends Matt Gifford and Sam Mainer and more recent addition Alis Alias have long forestalled an album, building their reputation with a series of strong compilation appearances. Their relatively small body of work previous to the release of The Transhuman Condition indicated the band knew their way around a club track, albeit with more complexity than your average melodic electro-industrial act. Although we were interested to hear what they could do with the canvas afforded by a full length, we hadn't anticipated the scope of their compositional skills, passing over low-hanging dancefloor fruit to build an album of surprising depth.
The Transhuman Condition takes a lot of gambles for a debut album. Despite being front-loaded with three strong contenders for DJ sets, the record quickly gives way to a series of songs that reward attentive listeners. That's not to say that there aren't a variety of good dance cuts; the upbeat "Drop Dead" is deceptively intricate and more lyrically developed than its catchy melody suggests on first listen. "Rise" (the sole holdover from their self-released Drowner EP) uses a simple enough beat as the foundation for a staccato vocal delivery from Gifford on the verses which, um, rises it above plenty of similar fare by adding a subtle but effective rhythm. Beyond the dancefloor though, The Transhuman Condition has much more to offer.
Immediately after its three bids for club play, the album hits its stride with "The Garden" and "The Killing Horizon", a pair of more contemplative songs which both show how Matt has improved as a vocalist (like many of the songs, they utilize cleaner vocals), as well as how shrewdly he has written to his strengths. In this regard Encephalon's debut calls to mind the polished, cross-over appeal of North American labelmates Necro Facility's Wintermute. On the other hand, several songs, like "A Liftetime Of Puppetry", show the same yen for structural complexity and movement as another debut – a little record called Seven Steps Of Nervousness by NCC, which enjoys classic status amongst heads in the know. On "Face First", both inclinations are on display, shifting seamlessly from hyper-synthetic, lead-driven keyboards to spare vocal and piano and back again – no small feat.
With our jam-packed review schedule here at ID:UD, we had to hold off on reviewing The Transhuman Condition for a week after we received it. Turns out that we're glad we did. Even the title track and "Daylight", the most straight-ahead bids for dancefloor accessibility, are rendered with an eye for detail which becomes more apparent with each successive listen. Part of our mandate at I Die: You Die is to survey the current state of Canadian industrial music, and it's always a pleasure to give an enthusiastic recommendation for an inaugural album that falls into that niche. The Transhuman Condition's lengthy gestation has paid dividends, arriving not only as a far stronger debut than most, but also as a versatile and rewarding LP, landing Encephalon squarely ahead of most of their peers.