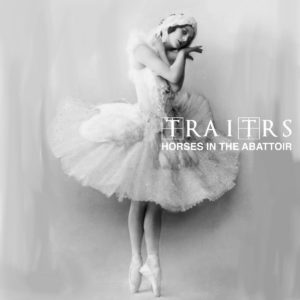 Traitrs
Horses in the Abbatoir
Freakwave
Toronto duo Traitrs deal in dark, cavernous post-punk of a stripe that should feel familiar to fans of Twin Tribes or House of Harm. Their delivery of the style is marked by its solidity; whether via the metronomic drum machine programming or the meat-and-potatoes basslines, the songs on their latest LP Horses in the Abbatoir always feel like they have a specific carriage and weight to them, a constancy that reads as density without necessarily being heavy.
That quality is contrasted somewhat by the high-keening vocals of Sean-Patrick Nolan, a quality that recalls Pornography-era The Cure, especially in some of the record's dirgier numbers. See the rolling drums and big, echoing vistas of "Last Winter" for a good example. It's a formula that the band seem comfortable with and know how to make hay from: "From this Old Mirror" and "Mouth Poisons" nail that heady, melancholic swell handily via far-off chiming guitars and speedy rhythms.
Indeed, the band are so comfortable with their lane that it can lead to some diminishing returns. Some tracks just don't stick after multiple listens – "Prostitution" and "All Living Hearts Betrayed" are fine in isolation but become lost in the record for lack of any major distiguishing feature, be it a hook or structural variation to call their own. The album's undoubted highlight is "Magdalene" specifically because it reads as distinct in context, it's instantly hummable chorus launching from a more minimal and nimbly put together verse. Where consistency of the building blocks is certainly not something you want to criticize a band for, it is notable how much Traitrs seem to take off when they loosen up and play with their arrangements a bit, as with piano and synths that bookend "Oh, Ballerina".
Still, Horses in the Abbatoir is a fine listen, coasting handily from its opening number to its final seconds without ever falling prey to inertia or excess. The band have their sonics dialed in, can put a tune together, and their steadiness in a delivery has a specific charm and appeal of its own.