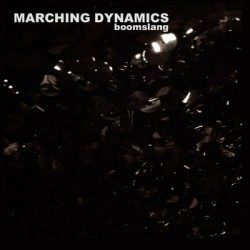 Marching Dynamics
Boomslang
Waxtooth
Last year brought two notable records from producers who'd spent some time away from the game only to return with releases which pointed back to earlier points in techno (in the broadest sense of the term): Mlada Fronta's Polygon and Antigen Shift's Brotherhood. I can't help but think of Marching Dynamics' Boomslang, released just on the cusp of the new year, as yet another such record. Sure, Shane Talada caught up with us early in 2014, but it's been five years since Marching Dynamics' second LP, The Workers Party Of Haiti. Boomslang definitely has plenty of the bin-shaking dub/rhythmic noise fusion which drew us to the project, but with a speedy blend of house and other markers worked into the mix, Marching Dynamics has grown somewhat more ambitious.
Despite his deep roots in goth rock, Talada's always used Marching Dynamics as an avenue for expressing his knowledge of and proficiency in noise-tinged electronic steez of an Ant-Zen by-way-of Warp ilk. By soaking techno pieces in boiler-room atmospherics and dub-heavy reverb, Nailsleeper and Workers Party did a savvy job of connecting early post-industrial sounds to the broader history of electronic music in the 80s and 90s, and perhaps also presaged the recent big moves made in industrialized techno by the likes of Perc. Much of Boomslang continues that work, with the skittering "Reignbow" recalling industrial's willingness to play friendly with jungle in the 90s.
But it's in the somewhat lighter sounds that Boomslang distinguishes itself from its predecessors. Take "000 Blase" and its blend of acid house and breaks as an example. While it's definitely on a continuum with earlier Marching Dynamics pieces like "Tangible Madness", it trades off some of the echoing bass which produced an oppressive, concrete atmosphere for light and popping percussion which gives a fluid and rippling feel. At the same time, and like plenty of other tracks on the record, it plays samples and programming off each other, providing a rhythm of "conversation" separate from the core speedy pace.
I wouldn't care to speculate as to whether the time away from Marching Dynamics has prompted this shift in Talada's approach, but it's a testament to his ear for production and different genre motifs that this wider range of sounds slips into an established set-up without disrupting the furniture. Strong stuff as usual, and a welcome return.