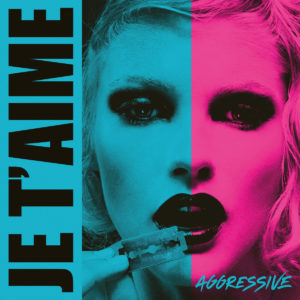 JE T'AIME
Aggressive
Icy Cold Records
French trio JE T'AIME occupy the space between glossy post-punk and and wave sounds that has produced a lot of great records across the globe in recent years. Like many comparable acts (ACTORS, Creux Lies and House of Harm are reasonable touchstones), the band leverage live bass, workmanlike synth and drum programming and fishhook guitar lines to get over big feelings – the band are down to mope. The the second part of their two album cycle, Aggressive (the conceptual follow-up to the Spring's Passive, natch) shows them at their best, while also highlighting some areas where they could distinguish themselves.
When Aggressive works, it does so by getting its hooks over quickly. "Elbow Beach" uses its bass guitar-led verse to get to the chorus in short order, a place where vocalist Dany Boy's Robert-Smith indebted yelp is matched by toe-tapping guitar arpeggios, suitable for both dancing and moping around one's room in equal measure. "Tales of Despair" leans further into goth rock proper from the jump with each successive section of the song echoing or playing off of the big melody-line from its opening moments, wringing every bit of drama they can from it in three short minutes.
It's when the songs take a little bit too much time to get in gear that the album starts to lose focus and cohesion. The full-on Pornography-homage of "Winter Lake" isn't without charm, but its most interesting aspect – the funky drum break two thirds of the way through – comes too late offer the track real distinction. Opener "Out of Sight" has a decent chorus but doesn't takes its time to get to it making you wonder if the juice was worth the squeeze. The record is never less than pleasant and well performed, but some of its songs never rise above that level, either for lack of momentum or by having whole sections that fade into the background.
That said, the album's best moment and club contender, "Kiss the Boys (And Make Them Die)" has an interesting angle that has shows great potential: between the falsetto vocal performance, cod-disco rhythm programming and immediately hummable chorus (assisted by Alex Svenson of Then Comes Silence), the track is full of glam cheek, recalling any number of Batcave classics. You can hear similar touches in the nervy pre-chorus of "Evil Curves" and the speedy tremolo workout "If Only". These moments of bright abandon add a lot of colour to Aggressive as a whole, and lend intrigue to what we might hear from JE T'AIME going forward.