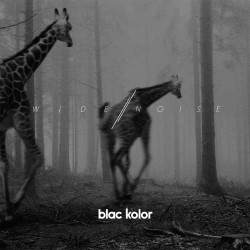 Blac Kolor
Wide Noise
Basic Unit Productions
Up 'til this point Haujobb's Basic Unit Productions has been releasing material that is more tonally similar than it is united by genre. That's how you get DSX's ultra-dry minimal EBM alongside Blush Response's squelchy modular take on modern industrial, both sounding totally at home on the same Bandcamp page: a commonality of atmosphere and intention that transcends technique and style. Within that, though, there's been an intriguing subset of techno-styled sounds, developed handily by the fantastic Frost Vol. 1 compilation, and by the debut EP from Blac Kolor, Range. Producer Hendrick Grothe has further developed his style for his first full length Wide Noise, and it's no less bleak and unsettling for the added production acumen on display.
It bears mentioning that there is an appreciable step-up between the first Blac Kolor tracks we heard a little over a year ago and the ones Grothe is producing now. Blac Kolor was born of a desire for Grothe to supplement his skills as a DJ, but was so fully-formed directly out of the gate that he attracted label attention. Given that, it might be a bit surprising for some how strong his material is at this point. The narrative of someone applying a wealth of genre knowledge to achieve great results in his early experiments, only to outgrow those early sounds almost instantly dovetails perfectly with the sound of Wide Noise though. The arrhythmic robot groove of "Noise Nektar", is crunchy and squelchy in equal measures, an outgrowth of the sort of the more straight-ahead dark techno jams BK was producing a mere year ago, but freed from rigid structure by newfound confidence. Similarly, the stuttering "Banging" is built of patterns that derezz and then realign with calculated accuracy, chaos built from building blocks of mathematical precision.
Wide Noise is perfectly capable when it sticks to more established sounds, as evidenced by forays into UK bass like "Evil Freak", or the Perc-down-a-well banger "Hexen". That Grothe can position these sounds in amongst toolkit exercises in pure atmosphere like "Blac Over Your Head" and "Easy Viktory" is a testament to his unified production aesthetic; no matter where he takes you (like the throbbing Nixon sample-bait of "Krook"), it's gonna stay dark, airy and mechanical. In some ways it reflects the work of his patrons in Haujobb (both members of which show up with Architect and DSX remixes of "Banging" that cap off the album), a meeting of appeals to the body and mind of the listener where each element is addressed fully, and occasionally smeared into one experience. That a co-sign cum comparison like that even makes sense should tell you something, namely that Blac Kolor is doing something wholly realized and ready for your full attention. The only limit now is how far he'll take it between now and the next missive. Recommended.