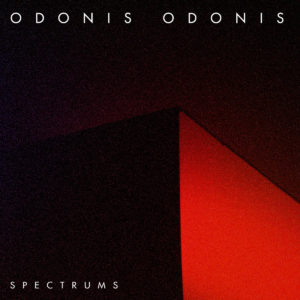 Odonis Odonis
Spectrums
Felte Records
Odonis Odonis already had two albums of noise rock and post-punk under their belt at the time 2016's Post-Plague was released. That record's emphasis on synths and drum programming certainly points the way towards 2021's Spectrum, the culmination of the latter half of the Toronto project's musical evolution. Now a duo made up of founders Dean Tzenos and Denholm Whale, it's an LP that goes in numerous directions from body bangers, to moody darkwave, to full-on machine rock, executing each with equal skill and intensity.
While Odonis Odonis aren't easy to nail down to any specific genre under the dark alternative umbrella, the band's focus on a song-to-song basis is notably part of the album's success. To wit, they approach every single variation in style like it's their whole thing, then move on to the next variation. And somehow it all fits; the raunchy industrial rock of "Get Out" coexists with the high-speed electro of "Laced in Leather" with no issues, each sharing some aspect of the other – the latter with a distorted drum loop, and the former with a funky rhyhtmic shuffle. Hell, "A Body" sits between those songs in the album's track listing and fully splits the difference between them, with moody synth bass driven verses and big washes of distorted guitar on its chorus.
That kind of aesthetic unity lets Tzenos and Whale really cut loose, and that livewire energy is palpable across the entirety of Spectrum. Opener "Trust" is a bracing mix of EBM bass programming and chanted vocals with rapidfire drum programming that sounds for all the world like someone taking a machinegun to early period Nitzer Ebb. "Shadow Play" takes a post-punk song template and applies burbling synths that get more and more menacing and acidic with each passing moment, the song shredding itself to pieces around the calm, low-key vocal. That kind of tension and fervor could be wearing on the listener, but the band have found a lot of economy in their songcraft and album arrangement; by the time closer "Salesmen" finishes its sprint between crushing drum hits and whirring and anxious synthlines less than 34 minutes has past, but listeners could be forgiven for assuming more given the territory covered.
Odonis Odonis are barely recognizable as the same band that put out Hollandaze back in 2011, but then again it seems likely that the decade of exploration and experimentation with their identity is what made a record like Spectrums possible. That tidy little narrative of ten years of growth culminating in the band's signature record is fine, but it's an album that leaves you with the distinct impression that still wilder hybridizations and approaches aren't just to be expected going forward, they're promised. Highly recommended.