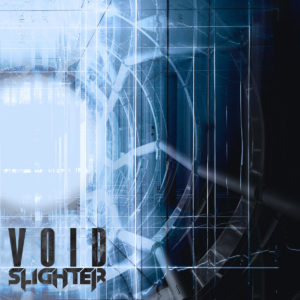 Slighter
V O I D
Confusion Inc.
There's an easy elevator pitch for Colin Cameron Allrich's music as Slighter; cinematic electronics and touches of industrial programming with trip-hopesque breakbeats and basslines mixed in for good measure. It's a melange that worked tremendously well on 2019's Automata and which is refined further on new record V O I D, an LP that is as much about flavorful sound design and atmosphere as it is about individual songs.
That focus on ambience is certainly what first grabs the listener's ear on a first listen to V O I D. Opener "Broken Unknown" is almost entirely that, a simple spoken word passage from R.A. Desilets setting the stage for several minutes of deep warping basses and warbling electronic sounds. Soundtrack is a word that gets tossed around a lot, but this recurring style of composition in Slighter's work has more in common with the scores of Jóhann Jóhannsson than it does any of Allrich's other musical influences. It's a focus that carries over into the more traditionally structured songs; obscurity is established at the outset of "Oblivion", it's massive drones and grinding synths resolving first into a rhythm, then drums and a bassline, with Allrich's voice, ticking cymbals and eventually slick melodic pads resolving from the darkness to make a mid-tempo head-nodder. That kind of slick, inevitable feeling shift in composition is very much the album's hallmark, whether on instrumental beatless outings like "Dissolver" or on the tense, rumbling sprint of "Controller".
That reliance on moody, beatless textures is often associated with drawn out, self-indulgent ambient recordings, but Allrich thankfully keeps the record moving, never losing momentum or wasting time. Allrich puts a lot of his best written songs out in front; "Spill Blood" has a deeply menacing vibe that emerges between the strings, whispered vocals, dialogue samples and wiry synth sequences while "Complicit" jumps into a damnably infectious rhythm that recalls Massive Attack's darker moments, easily the best club contender Slighter has released yet. Allrich knows what works for him, never stretching his voice outside a soft half-spoken delivery that suits the material, letting individual elements breathe in the mix and not getting lost in the large sonic spaces his music occupies.
V O I D is an effort from a producer whose studio acumen is considerable, but who has zeroed in on how to make that skillset serve his songs. There's no clinical detachment in an appreciation of the album: as impressive as it is from a craft standpoint, you'll often find yourself feeling your way through the record as much as listening to it, a testament to Slighter's continued musical and technical evolution.