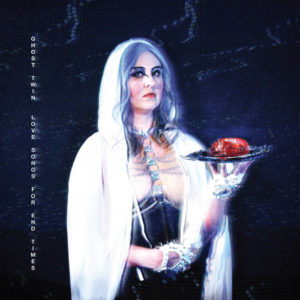 Ghost Twin
Love Songs For End Times
Artoffact Records
Anyone who checked out Ghost Twin's early self-releases could tell that the Winnipeg duo of Karen and Jaimz Asmundson clearly had an intuitive sense for the elements that make darkwave work, all of which were consolidated on their first LP, 2017's Plastic Heart. Four years later, Love Songs For End Times arrives with a somewhat wider range of sounds but the same ear for melody, yielding the sort of nocturnal mystery and wonder that is the essence of darkwave, and which has been in such short supply during the lockdown era.
Ghost Twin's style has always combined immediacy and atmosphere, and much of Love Songs picks up right where Plastic Heart left off in terms of darkwave arrangements. "We Are The Damned"'s stabby synths are adorned with just the right amount of guitar, and opening track "Strobe Light" has both Jaimz and Karen weaving vocal lines through tasteful, swaying programming. On that tip, Karen's vocals remain one of the band's strongest selling points, but they are deservedly given a stronger focus in the mix this time out, adding colour and character to the whole affair.
Love Songs also finds the band stretching out musically and thematically. There's a flurry of dense and manic sidechained disco programming of an almost Kirlian Camera ilk in the middle of the record on "Babes In The Woods" and "Become Control". An even more impressive uptempo move, "Blue Sunshine" is an indulgent synthpop confection so lush and inviting one half expects Andy Bell to suddenly start harmonizing with Karen. And beneath its rave-up pulse, the straightforward way "Give Me More" addresses the ins and outs of aging within the scene is a pleasant change-up for a band so often rooted in the occult.
A four year interim in which to work towards a second record would be enough to allay most bands' fear of the sophomore jinx. But the ease with which the hooks and beats flow through Love Songs For End Times could trick the listener into thinking that tunes this catchy just come naturally to the Asmundsons. Whether that's actually the case or whether the record's the product of years of slavish perfectionism, the result strikes a welcome balance between dreamy, otherworldly elements and earthy honesty. Recommended.