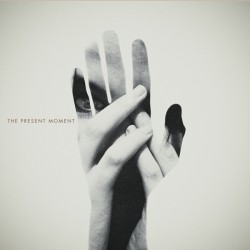 The Present Moment
Loyal to a Fault
Mannequin/Desire, 2011
For all it's strengths, Scott Milton's 2010 album The High Road was still the work of a project in the process of coalescing creatively, experimenting with the styles and sounds of its influences. As he alluded to in his interview with I Die: You Die back in July, Milton's sophomore album as The Present Moment Loyal to a Fault is a much more focused affair, zeroing in on a distinct sound in a spectrum that contains both the warmth of synthpop and the austerity of post-punk, pushing past the debut's hesitancy with refreshing confidence.
The album was written and recorded in collaboration with Philipp Münch, whose own work as The Rorschach Garden is fairly proximate to the sound of Loyal to a Fault if you're looking for a good point of comparison. One might be tempted to assign the project's evolution to the former's creative input if Scott Milton didn't emerge so fully as a vocalist. With an assurance that characterizes the album as a whole, he acquits himself admirably right from the jump on opener "The Start", a sparse bass and drum workout with Hannett-like production touches. The same mode appears again on "The Distance Between Us" and "Rejection", each of which features clever tonal shifts that hinge on Milton's delivery. That poise plays just as well on the occasional foray into full-on synthpop like the OMD-esque "New Day" or the title track (which appears on the album's bandcamp version as a Vince Clarke edit that is the most, uh, Vince Clarke-sounding thing this side of Upstairs at Eric's).
Appearing roughly at the halfway mark, "Intrigue" makes perhaps the best case for The Present Moment as a band worth paying attention to. Jettisoning the minimalism of much of the album's first half in favor of a slow build to a sparkling climax where the project truly comes into its own, it's a singular moment where the band escapes easy categorization and attempts to trainspot their influences. Although it's most certainly the highlight, the insidiously catchy penultimate song "Feast on Fire" is an almost equally good example of what they're capable of.
I Die: You Die's expectations (bolstered by a steady release of pre-album leaks of various stripes) for Loyal to a Fault were high, and without doing a disservice to Messrs Milton and Münch by descending into hyperbole, we're pleased by how fully-formed the album is on arrival. Flying in the face of the current vogue for detached, affectless coldwave, it's an unadorned, emotionally resonant collection of songs, and one that will most certainly be worthy of consideration as one of the year's best in a few months.
But it on CD or vinyl via Mannequin Mailorder, or download via Bandcamp.