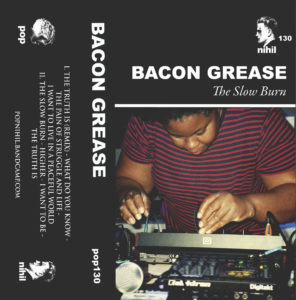 Bacon Grease
The Slow Burn
Popnihil
Florida's Bacon Grease, AKA Andrea Knight, wields a lo-fi array of synths which, at a component level, will be familiar to regular denizens of experimental shows. But on 70+ minute tape The Slow Burn, Knight uses those elements to tap into an uncommonly wistful mood. Drawn out and spacious, kicks and phases which might sound confrontational or claustrophobic in another context feel warm and dreamy. Despite the improvisational and impressionistic vibe of these pieces, they never feel repetitive or aimless (or, on the flip side, "hypnotic"). Instead, like Debussy pieces, they seem to flow in accord with unseen poles and forces. For every pinched or squared-off synth line which ambles along jovially, there'll be Knight's vocals flitting phantasmagoric in the background, speaking to everyday life, love, and struggle. It's an 'everything but the kitchen sink' record in terms of style and construction, but retains a tasteful minimalism throughout, and has a gentle, thoughtful, and at times joyous spirit.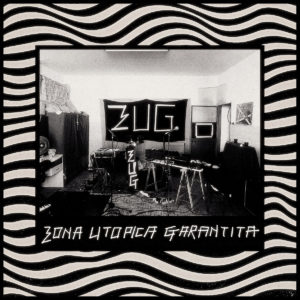 Zona Utopica Garantita
ZUG! ZUG! ZUG!
Oráculo Records
Spain's Orácula Records has been on a roll lately, identifying interesting artists from the industrial and darkwave spectrum and getting them on board for not only original releases, but vinyl and cassette compilations of their previously released material. One such release is ZUG! ZUG! ZUG! by Italian quartet Zona Utopica Garantita, which draws tracks from their 2020 LP Sexy Garage. ZUG draw from a few arenas, specifically the proto-body music sounds of DAF as well as punk and no wave influences, mushed together with artful weirdness. "Afro Musik" combines a simple FM bassline with vocalist Jules' warble and chintzy keys for a charmingly bouncy bit outré death disco. "Volkswagon Punk" leans a little further into the synthpunk side of their sound, attaching rolling toms and random bits of percussion to the proceedings. Stranger is "Vortice", an organ adorned bit of ascending synth noodling and seemingly random poetics formed around a rapidfire kickdrum. The highlight is "Sexy Garage", an effectively send up of body music's mechanical obsession, delivered with campy aplomb. It's strange music no doubt, but in ways that display a specific and intentional sense of humour that translates well – the tossed off energy of the EP makes Zona Utopica Garantita sound like they'd be a lot of fun to see on stage.