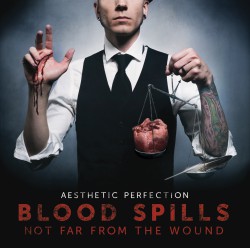 Aesthetic Perfection
Blood Spills Not Far From the Wound
Metropolis Records
Daniel Graves' sole 2007 release as Necessary Response Blood Spills Not Far From the Wound occupies an interesting spot in his broader discography as Aesthetic Perfection. Pre-dating his breakthrough record as AP A Violent Emotion by a year, the material on Blood Spills featured a more melodic and futurepop influenced sound, at the time a distinct departure from the aggressive sounds of his main project. With Aesthetic Perfection already shifting towards melody and hooks by the end of the decade, Graves abandoned Necessary Response, posting on Facebook as recently as 2012 that "Necessary Response is dead, buried, and will not return…ever."
For whatever reason 2015 has seen Graves reassess that position, leading to a few live performances of the Necessary Response songs, and now a revamped release of Blood Spills Not Far From the Wound under the Aesthetic Perfection name, complete with a new mix and rerecorded vocals. On the whole the changes serve to highlight the strength of the material, throwing a spotlight on Graves' legit chops as a songwriter. From an instrumental perspective most of the changes are totally transparent, like the punchy cleanups on uptempo numbers like "Forever" and "Elements", leaving intact what made the songs work in the first place. When he does renovate a song entirely, as on the torchy piano ballad remake of closer "Devotion" the goal is the same: to bring out the song's best qualities.
For the most part the major changes lie in the new vocal takes, and by and large they work well. Graves is a very different and far more distinctive vocalist in 2015, and his style suits this material, singing comfortably in a higher register that lends the songs a more confident and emotive feel. The effect is especially striking on "Dying in the Worst Way", a good song that blossoms into a great one in its new version, the sentiment of the lyrics amplified and laid bare. While the album's most widely-known track "Spilling Blood" sounds slightly off due to variations in phrasing and vocal processing, it's the isolated case where the facelift isn't a distinct improvement. Pretty much every decision made in how to approach this material works to elevate it rather than remake the record from whole cloth. Even the omission of the Gridlock-esque instrumental "This Distance" in favour of unearthed "Never Enough" feels like the right decision in terms of the record's ebb and flow.
Reclaiming the Necessary Response songs is almost certainly a nod towards Graves' push towards songcraft in Aesthetic Perfection, especially with the re-release coming out under AP name. Truthfully, it fits better into his catalogue in the new form than it did in its original release, elevated from a minor curiosity with a few good songs to a distinct part of Daniel Graves' oeuvre. Those unfamiliar with the original version of Blood Spills Not Far From the Wound should have plenty to dig into, and fans of the original may find themselves surprised by how much light this new version sheds on already familiar songs.