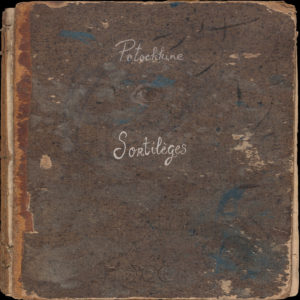 Potochkine
Sortilèges
self-released
Potochkine have come by their sound honestly. The French duo work a style that is certainly shaped by modern dancefloor standards, but has a clear throughline back to classic French coldwave, darkwave, and electro. New record Sortilèges adds some extra club polish and drama to an already developed sound, and acts as an excellent introduction to the band.
It's easy enough to hear the slinky combination of darkwave and EBM production plied by Pauline Alcaïdé and Hugo Sempé and imagine them to be of a piece with a current wave of dark club music most notably championed by Boy Harsher. But pay closer attention and you'll be able to find connections back to classic acts like Kas Product in the combination of spiky synths and metronomic beats in "Les Chevaux". Alcaïdé's vocals, alternately panicked and yelping then softly reflective (and willing to drop a Matisse reference at the drop of a hat) hearken back to plenty of French acts while also having more than enough of their own character.
Potochkine's progression with Sortilèges has been marked by refinement rather than reinvention. Alcaïdé's vocal charisma and talent was apparent from the duo's first releases in 2016, and there was plenty of pulsing immediacy to that work, too. But the dramatic vocal strain added to the trills of "Possédée"'s tale of envy and seduction (already one of our fave DJ numbers of the year) or the savvy paring of the manic "Pogo" down just to its incessant titular bounce feel like the finishing touches a band applies when they've really figured out how to fully deliver their chosen aesthetic. Factor in the oddities of the band's extant discography (demos, theatrical scores, an EP reprising some of the demo material) and Sortilèges is exactly the sort of unified calling card Potochkine would hope to be putting forward.
Potochkine was brought to our attention by a friend of the site who was at the now-fabled Kalabalik Festival a couple of years ago. When we asked which acts she'd most enjoyed who we likely wouldn't have heard of all the way back here in Canada, Potochkine was her immediate reply. It's now readily apparent to us why that was, and based on the quick impact and appeal of Sortilèges, we imagine plenty of others will be pointing friends to the band just as swiftly. Recommended.