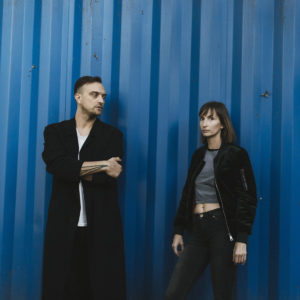 Figure Section
Spectre
aufnahme + wiedergabe
The fun of a release like Spectre is in examining how a new project presents themselves. For their debut three-track release Belgian project Figure Section focus on a bass-heavy and dancefloor ready iteration of darkwave that speaks to some broader sounds in the dark music spectrum. Title track "Spectre" is a hell of an overture in that regard, mixing a tense arrangement of analogue synths and snappy drum programming, propelling deep female vocals with a heady immediacy. Even more desnse is "Disfigured Section", where fuzzy bass and drums reminiscent of millennial electro are drowned in a rich syrupy reverb that lands just on the right side of excess, samples and other percussive elements emerging and then retreating into the audio murk. Closer "Slick" offers an interesting view into the project's broader vision for their sound; instrumental save for some rhythmically arranged vocal samples, the rhythm track speaks to both techno-industrial and body music sounds, with sinister pads floating above busy cymbals and snappy snares. The potential for a more substantial LP is certainly suggested on Spectre, but there's more than enough merit in these three songs to justify it as a release unto itself.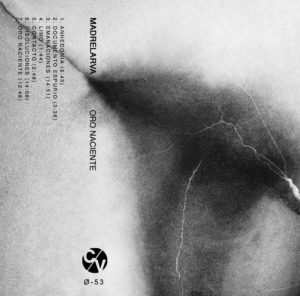 Madrelarva
Oro Naciente
Cønjuntø Vacíø
Spanish producer Julio Tornero's Madrelarva project focuses in on a restless combination of dark ambient and pure sound design. New LP Oro Naciente is rife with phase shifting and swirling pads which might be mistaken for being spacey were they not so temperamental. Even amidst the loping drones and looped minimal rhythms of "Anhedonia" there's something restless and uneasy in the mix. No matter how slow or repeated Madrelarva's phrasing is, it never quite settles down. Sure, one could interpret the soupy ambiance of "Emanaciones" as speaking to a blurry and spiritual ephemerality, but the industrial drones and wheezes which bubble up out of the murk point to emanations of a more chemical and toxic manner. That it simply cuts off after nearly fifteen minutes with no progression or resolution adds to its stymieing effect. One could indeed even question whether the seemingly arbitrary run time of the compositions is yet another means through which common ideas of structure and catharsis are thwarted. The one exception is the closing title track, yet another lengthy piece which slowly adds some trepidatious harmonies and wet yet processional percussion, offering some scant grounding in time and place.