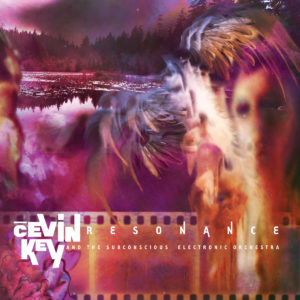 Cevin Key
Resonance
Artoffact Records
Between new and archival releases between his innumerable projects and collaborations, the Skinny Puppy founder and Subconscious Studios head Cevin Key has had a steady stream of music available for the last twenty years. Resonance (originally titled 'X̱wáýx̱way', the name of a First Nations village that was historically located in what is now Vancouver's Stanley Park) is the first album of new music he has released solely under his own name since 2001's The Ghost of Each Room. Fittingly, the record incorporates the electro, IDM and dub aspects that have woven their way through Key's post-millennial output, along with collaborations with many familiar faces, resulting in a record that speaks to the style and substance of his work over the last two decades.
It's a testament to Key's distinctive voice as a sound designer and composer that Resonance is as cohesive as it is. To wit, very few tracks resemble one another in terms of style, but all are unified by the rubbery, psychedelic synthesis that has become the Subconscious trademark. The complex, gated chirps that make up the body of "Sorry I'm Going to Think Positive" and the hopped up syncopation of opener "Thirteen" don't necessarily read as comparable exercises in composition beyond their playful, uptempo structure and distinctive sound design. On slower compositions like the gradually evolving "Thunderbird" or genre-exercises like mutated electro number "Orange Dragonfly", it's the placement of stereo elements and the richness of the pads that really bears his mark as a producer, granting each number a thoughtful and wistful sensibility.
Fittingly given the collaborative nature of so much of Key's material, Resonance features a healthy list of guest contributors. Longtime friend and partner in the Tear Garden Edward Ka-Spel appears on "Night Flower", a melancholic head-nodder and "Watching You", where a bouncier tempo and spiralling synthlines collide with the Legendary Pink Dots' frontman's low-key paranoia prophetisms. The seeming familiarity of the collaboration on those numbers stand in contrast to Chris Corner's turn on "Anger is an Acid", a slowburning ballad with vocal vamping whose strings and piano sounds could easily have fit on an IAMX record. Cult breakcore producer Otto Von Schirach and Tuvan throat singer Soriah both bring their distinctive voices to their tracks, albeit shot through with Key's own sensibilities – dub in the case of the former, tweaky electro in the case of the latter.
Cevin Key has long since reached a point in his career where he does exactly what he wants musically, with Resonance acting as something of a broad summation of the producer's numerous technical and stylistic interests. Consequently its variety ends up making it feel very specifically like a Cevin Key LP. Those who have enjoyed his contemporary work as a synthesist or composer are offered much to consider across its twelve oddly affecting tracks, each a tiny and complex world unto itself.