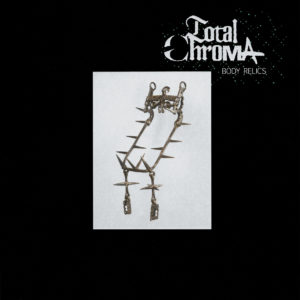 Total Chroma
Body Relics
Negative Gain Productions
Total Chroma is the solo project of Vancouver's Robert Katerwol, who has been exploring synthpunk and body music sounds for close to a decade in Weird Candle and Wire Spine. The music on Body Relics is proximal to the sounds of those projects, but leans even further in on Katerwol's penchant for tense, mutated rhythms and structures. The result is a speedy and sometimes thorny listen that speaks directly to the production and performance style the artist has been cultivating for years.
Body Relics draws heavily from EBM and electro rhythms in places, spiking them with unusual choices in arrangement and discordant wedges of sound design. Opener "Mutation" encapsulates matters perfectly; a spritely synth intro gives way to a burbling bassline, that then ramps up into shouted atonal vocals before the entire track inverts into a dubby mix of bass drones and hall-of-mirrors reverb. Follow-up "I Dream of Fire" establishes a descending bass riff at the outset, driving the track through shimmering metallic pads towards its inevitable conclusion as the once rock solid rhythm programming disassembles itself and dissipates. Highlight "Lost in the Wild" takes an alternate approach, working an FM bass synth hard for the track's first half before being joined by an array of brassy synths that add carriage and weight to the climax.
Interestingly the record has a number of instrumental interstitial tracks that diverge from their surroundings in intriguing ways. While its brevity might suggest that a song like "Solitude" is a sketch, its dreamy and saturated synth warble and tumbling drum programming serve to break the tension between "I Dream of Fire"'s conclusion and "No Television"'s forest of squelchy bass stabs. Late album cut "Metamorphosis" forgoes the body tropes for a speedy techno tempo that gradually drowns in massive waves of molasses-thick noise, with claps poking their head above the surface before being dragged back under.
For those who have been following Katerwol's career, Body Relics should feel somewhat familiar, if not more confident and polished than ever before. Indeed, for an artist whose sound has relied on discomfit and frustration as drivers sonically, Total Chroma is the artist working in a state of assurance and composure we've not yet seen from them. It's the sound of long-fermenting ideas and approaches resolving themselves, and the payoffs thereof.