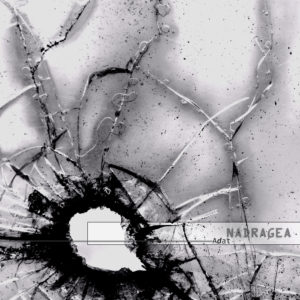 Nadragea
Adat
Aliens Production
Hailing from Hungary, Nadragea have been around in one form or another since the late 90s, keeping a relatively low-profile. Opting for self-releases, tapes on small death industrial labels, and Hungarian vocals may not have spelled instant success for the on-again, off-again sometimes-duo, sometimes-trio, but their approach has given them plenty of time to dial in their aesthetic. New LP Adat finds them putting a strong foot forward, with their grinding dark electro style likely finding some first time listeners on Aliens Production.
A tweaked and rearranged version of a cassette which saw release late last year, Adat's made up of eight originals and four remixes taken on in-house using the handles of the members' various side and solo projects. On first glance, Adat's approach seems to be a minimalist and austere one. The spaced-out staccato kicks of opener "Halott Halozat" put a premium on distortion rather than sustained rhythm, and the slow, icily sterile programming behind the drums buttresses an impassive wall of noise. The similarly brusque "Adat Toredek" finds Balazs Varga's heavily-warped vocals enumerating physical and spiritual encumberment between loping beats and briefly pinched harmonizations.
Over time, though, Nadragea reveal talents beyond brute severity. The fluid, slithering programming and polyrhythms of "Csendes Uzemmod" have a swampy subtlety, and "Logaritmus Protokoll" impresses with dense, mutating percussion emerging from and feinting into a blanket of fog. Much of the charm of these tracks lies in Nadragea breaking from the precision of martial metronomy, allowing them to assemble and deconstruct their own breaks as on the latter track, or explore the chaotic electro-funk of "Szetfagy Minden".
While never quite reaching the same menacing depths as its most handy points of comparison (The Klinik, Severe Illusion), Adat certainly scratches the mean, unrelenting itch fans of those influences are likely to have at all times. And while the harshness of the presentation might seem unremitting, a closer examination reveals some percussive complexity which should also appeal to long-time dark electro heads.