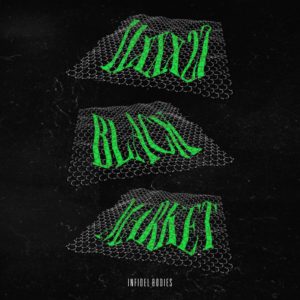 11xxx27
Black Market
Infidel Bodies
Italy's Infidel Bodies has earned a rep as a strongly curated label with an ear for eclectic sound design – Viktor Kalima's pinched approach to TBM is a far cry from Hyperlacrimae's recent foray into cinematic tribal industrial. But the new tape from Erminio Granata (one half of both the latter project and Infidel Bodies itself) as 11xxx27 pushes sound design right to the top of the priority list. Black Market arrives as a brief but evocative suite of industrial atmospheres rendered in high-def.
1xxx27 is certainly taking a minimalist approach with Black Market, but that shouldn't be mistaken for being ponderous or long-winded. Upon hearing the wheezing drones which make up "You Make My Skin Crawl" it might be tempting to cast Black Market as a dark ambient record. But while it's certainly a dark listen with plenty of ambiance to go around, Black Market isn't interested in the sustained repetition and slowly shifting dynamics of that genre. Individual sound palettes are developed, run through a handful of permutations and interactions, and disappear swiftly.
The knob-bending phasing of "Surgical Mode (No Feelings)" is a good example of 1xxx27's brevity. Just scratching the 90 second mark, it still manages to suggest a labyrinth of fun-house mirrors, paying close attention to the granularity of its analog textures in a manner that recalls classic early modular experimentation. Compositional brusqueness also plays in Granata's favour: the restrained and hushed pulse of "Granular Tears" feels like a nod to Dom Fernow's work as Vatican Shadow, with muted but still jarring kicks punctuating a heavy fog to chilling effect.
Black Market certainly isn't easy listening, but that doesn't mean it isn't pleasurable. Despite its short run-time (and perhaps aided by it), Granata's talents for sound design remain on clear display and offer serious, if quickly passing, depth. The acts he's tapped for Infidel Bodies speak well to his ear, and he's been able to turn it to outre but engaging ends in his own work here.