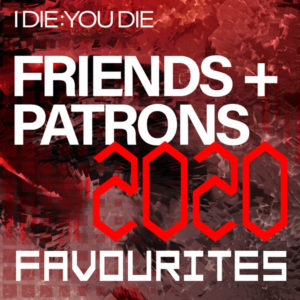 As has become tradition, we're starting off our Year End coverage by outsourcing it. We kid, but we've come to really value the perspective and recommendations that come with asking some of our friends – joined this year by a handful of our Patreon backers! – to offer some thoughts about a record which grabbed their attention this year. We invariably get some sounds and genres we'd likely never have discussed otherwise into the mix, and we like heading into the break with some new music to check. Give a gander at what some of your fellow ID:UD readers and listeners have been enjoying, and then tune in tomorrow for the first installment of our Top 25 releases of the year!
Danesha Artis of Standard Issue Citizen
2020 was and is highly regarded as a year that's been on notice. However, even with the cavalcade of mess, there were some audible bright spots; one of them being Clipping. coming out with Visions of Bodies Being Burned. It's a companion piece to their last album There Existed An Addiction To Blood, and it gives me just the same anxiety. Daveed Diggs' rap ability along with discordant electronics gives the listener the feeling of being pursued down a dark hallway. Seriously, listen to "'96 Neve Campbell" and tell me you wouldn't get the same vibes. You'd think that'd be a going concern, however the anxiety created along with the aural goodness of each track feels like a controllable form of chaos. Considering how this year shook out, it's a form of welcomed terror.

Andi Harriman, DJ at Synthicide, author of Some Wear Leather, Some Wear Lace
Window, the San Francisco-based duo, is unforgiving. "You think you're normal? You think you're civilized?" spews vocals from the Endless Cycle EP. As a storm of dark electronics that seethe with disdain, the EP fuses elements of EBM, industrial, breakbeat and doom into a whirlwind of five tracks. "Ashen" is a portal into the depths of raw, unbridled blackness while "Carbon" is a synthpunk tirade of moody synths and dueling voices. With Endless Cycle, Window will grab hold and carry you down to hell with them.

Sarah Graves/DJ Baby Magick of HAEX
Hear me out: here's why you should care about The Weeknd's Afterhours. This album reads like a deep 80s sunthwave album. Each track is drizzled with reverb and classic Analog synthesizers. It's very dystopian and could be listened to in some far off cyberpunk world. It's the perfect 2020 vibe; nostalgic and ahead of its time. Under the hood most of these tracks were recorded live and programmed by Oscar Holter of Necro Facility. (He also produced and Co wrote their track with Covenant). Back Oscar up with Legendary producer Max Martin and you have an unbeatable team. This album is a experience cover, it's a break and after this year…you deserve a break.

Kathleen Chaussé
Fiona Apple's Fetch the Bolt Cutters is a defiant and powerful album. Several songs are earworms, filled with incredible lyrics. Her words perfectly capture feelings of anger that serve to empower people who have been frequently asked to be quiet and controlled, to be less. The songs are catchy and fun, and I truly enjoyed the whole as a listening experience. One aspect that drew me in is that it speaks to different power dynamics in human relationships and support systems. I have definitely thought of the lyrics from "Heavy Balloon", "I spread like strawberries and I climb like peas and beans!" It's a powerful anthem for those of us who struggle with depression and anxiety, speaking to the process of personal growth to become resourceful, and how a support system can help build us up. Favorite tracks so far: "Under The Table", "Heavy Balloon" & "Newspaper".

Mildred Strange of History Lessons for Misanthropes
Seeming's The Birdwatcher's Guide to Atrocity was like a weighted blanket on this year: soothing existential anxiety with heaviness. The themes of the album didn't include the pandemic, but many other global and local horrors. From the imagery of gutting billionaires, however, there was a pervasive sense of hope. Remember to breathe, Reed reminds us. Create your own reality. Affect change through small actions. With beautifully arranged songs and thoughtful lyrics, Seeming was a balm on a dumpster fire year. (also Solstafir's Endless Twilight of Codependent Love was an absolute ripper this year).

Katja Lunde/DJ :eyg: of Sensuous Enemy
Fantasizer represents Freezepop as grown-ups, expressing mature themes through a technicolor lens. Gone are songs about stealing bikes that aren't entirely true, and in their place are bright songs that illuminate the life's bleak corners. "Heat Lightning Hott" and "The Ghost Rejoins the Living" remind the listener that there is a light at the end of the tunnel, despite how arduous the journey may feel. "Our Solar System" and "Step into the Sunshine!" encourage both toe-tapping and introspection. Even the slow jams don't act like anchors pulling down the buoyancy of the rest of the album. It's their best yet.

Aedra Burke of FIRES
Okay nerds, hear me out: Poppy is pop music's Rabbit Junk. Straddling the line between Digital Hardcore, Noise, Devin Townsend influenced power metal, and industrial, her 2020 release I Disagree (and companion bonus edition, I Disagree (more)) is not just juxtaposition of influences, it is an effortless dissolution of the arbitrary lines placed between genres. While it might be easy to dismiss her as a Gen Z product, her music is difficult, confrontational, and most importantly, interesting.
You owe it to yourself to listen to this album without bias.

Nick Stefan of Trellick
Kenny Campbell's Blackest Ever Buckfast is the story of a night out in Manchester UK, told through the relentless beats of industrial techno and EBM. Blackest Ever Buckfast perfectly captures the anticipation of a night out, the energy of a sweaty, dark strobe-lit club and then the exhaustion as you make your way home. For me, this release made me miss clubbing more than pretty much anything else I've heard since the start of the pandemic.

Lenny B. of Cenotype
clipping.'s Visions Of Bodies Being Burned hits so many notes that reach straight to my gut s- super original, abstract hip-hop steeped in dark imagery, while leveraging expert-level use of the strongest elements of harsh noise coalesces a vibe that is unmatched in my mind. The lyrics are powerful poetry blended with intense social commentary through an extremely visual lens. The stories that Diggs spins feel like a narration of a dire, sinister, hyper-now urban film noir. Collaborations with some of my favorite Noisicians – SICKNESS, Greg Stuart, and Michael Esposito – are the venerable black icing on this concrète cake.

Joe Moore of Wormwood Radio
I heard a portion of "Tarde Demais" by Pontagulha in a video from Whang on YouTube and really liked it. I went to Bandcamp, listened to it, and purchased. It has a great goth sound, with lyrics in Portuguese. Dark music comes in all forms, from all over the world as we know. Music can speak to us, even when it's using a language we don't understand. I like that I had to start a Portuguese language playlist, to go with the other language playlists I have. The record label announced a new single will be released December 11!

Michael Kurt of the Talking To Ghosts Podcast
I don't know how to write about drone music, but there are moments in Pulsatile Tinnitus' Candid that lull you into such a state that you begin to hear the soft plucking of strings louder than the last time you listened. It's a state I imagine translates better live and in a very loud environment. By the final track, "burning," the strumming is obvious and clear. Things calm and the distortion goes away (mostly). You're ready for the end, having been through a deep peak of sound. The strings were always there. The guitar is obvious when you find it, stripped away from the noise environment.

Avi Roig of Harsh R
I became aware of Eddington Again from his very public and entirely righteous break-up with R&S Records and, seeing that I've enjoyed a number of that formerly esteemed label's releases over the years, I figure I owed it to Eddington to give him a listen. Not what I expected! Eddington was signed to R&S sublabel Apollo and that's supposed to mean ambient techno, but the Damani6 EP is pure slow-jams and, for anyone that knows me, you'll understand that this is decidedly not my usual thing. That doesn't matter though — this EP has tremendous hooks and it is imbued with the same wonderful sense of economy that I try to carry through in my own music. Every track is precisely as long as it needs to be: no more, no less. It's designed to inspire repeat listens and that's exactly what I've been doing.

Paddie Thompson of the 8th Dimension Podcast
I was a huge fan of Code Orange's 2017 release Forever. On Underneath former guitarist Shade moved to focusing purely on electronics and it features additional programming by Chris Vrenna meaning it includes more lurches in to the noisy landscape of"our thing". However some of my favourite songs – the Type O referencing "Autumn and Carbine" and ballad "Sulfur Surrounding" lean into the influence of 90s alt rock. They also won streaming concerts this year with their concert film quality performances on Twitch – particularly their acoustic show which drew out "Headbangers Ball" host Riki Rachtman.

Kolton H of Cryounit
2020 marked the 20th anniversary of Deus Ex, a landmark title for both videogames and the cyberpunk genre. In Conspiravision, Alexander Brandon and Michiel van den Bos revisit their work on the original soundtrack, showcasing both composer's visions unencumbered by the technological limitations of the early 2000s.
Some tracks retain their previous nature. Others diverge wildly from the originals, providing new perspectives on familiar melodies. If you have fond memories of sneaking through UNATCO HQ this will bring you right back.

Daniel Felice
Wulf, the sole artist behind synth-metal act Neurotech, debuted his all-electronic alias NeuroWulf in 2018. Trinity is already the third NeuroWulf album, and my favorite one yet. The anthemic choruses, synth arpeggios and four-on-the-floor beats place it squarely in the futurepop zone, but it gets there via a different path from the norm. Wulf's symphonic metal background shines through in the vocal harmonies and orchestral flourishes, and the production is rich, spacious and satisfyingly ornate. There's no minimalism here, but if you feel like listening to something unabashedly BIG, check it out.

brd(y)of POMOPHOBE
American act Big Black Delta's album 4 is one I've been listening to a lot recently. I love their first album, and this one is good too. I found the mix of 80's Hair Metal, with the new wave & low-fi indie influences, mixed with cinematic ambient aesthetics are a pretty unique listening experience. Some tracks, like all albums with significant exploration, are hit and miss. His other band Mellowdrone has some great tracks as well, not as experimental as Big Black Delta, and reveals that Low-Fi influence.

Adam of THE VIIRUS
I don't know if Robert Görl & DAF's Ich Denk An Dich will ever get easier to listen to but it would be wrong to turn away from it. Tears me up now just like anytime I hear David Bowie's "Heroes". I can't think of anything more that needs to be said.

Brad McFeeters
Thecodontion's Supercontinent is an avant-metal concept album on the subject of palaeogeography, what's not to love? The raw bass-driven rumblings of Thecodontion's debut full-length paint an evocative tribute to the grand primeval dance of tectonic plates grinding, rifting, and subducting, magma surging, and super-oceans teeming, referencing over a billion years of geologic history through a terrific collision of feral extreme metal vocals and science textbook lyricism. A highly original and enjoyable release, with the deep time perspective providing a welcome respite from the current year.

Stuart White
Says the Never Beyond is the second full-length from the Scottish folk duo of Debbie Armour and Gayle Brogan, and is a collection of traditional midwinter songs from the nations around Britain. Tracks are occasionally pared down to the core of Armour's powerful voice ('Wexford Carol'). Most embed the song in drones and textures that sometimes recall Brogan's Pefkin psychedelic ambient project ('Hela'r Dryw Bach'). If you have the chance and inclination to spend some time this holiday sitting with the stillness and the darkness, regrounding, this might be the album to keep you company in that place.


Philip Rothenberger
Pitch Black Manor's Monster Classics is gothic rock (albeit could easily wear the face of post punk) more than occasionally dabbed with flourishes of synthpop, absolutely filthy funk basslines, cinematic score treatments paired with vocals of confidently crooning-till-the-mania-unhinges-them brewed in a cauldron of all the things that Go Bump In The Night. Campy and clever; really sinks it's teeth in.