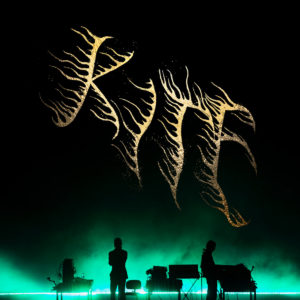 Kite
Kite At The Royal Opera
Astronaut Recordings
For years we've celebrated Kite for, amongst other things, the incredible quality control their 'EPs and singles only' mandate has allowed them to maintain. To date, Nicklas Stenemo and Christian Berg have released just 34 original Kite songs since 2008, and just about all of them are killers. From the bubbling dancefloor immediacy of their early pop tunes to the grand majesty of their recent lush laments, Kite's discography has to be considered to be, pound-for-pound, one of the best in synthpop history at this point. The irony of this 80 minute live document, then, is that it's technically their first LP, though one that brings the enduring power of their existing work into a grand and sustained context.
Recorded just over a year ago at the Royal Swedish Opera in Stockholm, this performance features, amongst other additional contributors, a sixteen-piece orchestra augmenting Stenemo and Berg's well-established array of sweeping, contemplative synths. Even before addressing the presence of the orchestra itself, it should be noted that this recording does a solid job of capturing the scope of a live Kite show: the space of the opera hall brings out the "Plainsong"-strength weight and impact of "Tranås/Stenslanda"'s rich and brassy pads, and gives Stenemo's voice plenty of room on the sparse "My Girl And I", underscoring the song's wistfully keening and lovestruck tone.
Pop history is rife with collaborations between orchestral groups and artists generally removed from art music traditions and presentations. Many of these often trade on the supposed novelty of such team-ups or are bent on underscoring the 'serious' nature of bands who, frankly, doth protest too much. Kite avoid both of these pitfalls. Whether it's due to the subtlety of the arrangements of film composer Jukka Rintamäki (who adds keys and lap steel guitar onstage) or the mix itself, the orchestral instrumentation never oversteps. The strings on "Nocturne" which sway beneath Stenemo's vocals (which are given some interesting new auto-tune in moments on the track) nicely replicate the synthesized orchestral and percussive passages of the VI original, lending resonance but not reinvention. The same could be said for "True Colours", with its stoic march buoyed up by strings and percussion. A notable exception is "Hills", a track which well predates those more recent and audacious compositions: the bedroom synth of the original is replaced by a massive "Solsbury Hill"-cum-Arvo Pärt gospel arrangement.
Kite's records, especially their last couple, are likely best listened to alone, in times of emotional frailty. But coming together with others around their music now and again – hearing it out at a club or experiencing it live – is all the more powerful for that. Something held and felt privately is given license to open up and try to connect (the same tentative experience to which "Up For Life" speaks), and is generally reciprocated and amplified. Not being able to experience that – with Kite's music or anyone else's – is painful right now, and as a bittersweet compromise Kite At The Royal Opera gives us all the chance to reflect on the power and beauty of their catalog, and hopefully points towards what we can look forward to sharing again someday.