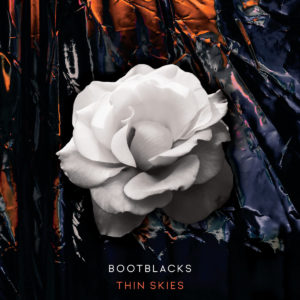 Bootblacks
Thin Skies
Artoffact Records
For a band with roots in a somewhat traditional, melodic style of post-punk, New York's Bootblacks come across as an impressively polished and varied act on new LP Thin Skies. Near constant touring since the release of 2017's Fragments hasn't just raised the quartet's profile – it's evidently given them the confidence to expand their range of styles and take on new moods and sounds, plenty of which lie outside of their darker native climes. Thankfully, that exploration hasn't come at the cost of their direct, emotional, and often clattering impact.
Thin Skies still has plenty of the dark drama upon which Bootblacks' rep was built – strident opener "Traveling Light", the slowburn synth-noir of "New Lines" – but all sorts of brighter (and dare I say more approachable?) material is woven in. The chilly pulse of "Hidden Things" feels like a revisiting of Fragments' "Hold And Dissolve" (a tune which earned Nandor the Relentless' seal of approval), but substitutes hazy disco swank for anxious drive. Similarly, "Brouhaha" pushes some classic Britpop and dance-punk buttons, with vocalist Panther Almqvist proving himself as adept at conversational, lo-fi crooning as at big and booming proclamation.
Catching Bootblacks live a number of times over the past few years has underscored for me just how subtly reliant the band is on its rhythms. For a record with an awful lot of studio production (courtesy of Actors' Jason Corbett), Thin Skies can be a spacious listen, and more often than not it's the beats which keep the atmosphere aloft. A flurry of drumming elevates "The Jealous Star" from a cool, standoffish come-on into a storm of bluster and indirect fury, and the steady beat and programming of "Parallel" acts as an ideal platform for its more wistful surface adornments.
Closing track "Indistinguishable" acts as a symbolic cap on Thin Skies's brevity and ambition. That it's comprised of so many sharp turns in mode, almost executed exquisite corpse style – a brief, almost tossed-off nod to NIN guitar plucking here, some Flood-era DM vocal grandiosity – in three and a half minutes sounds like far too much. But not only does it hold together, its combination of grime and sheen, rhythmic excess and simple harmonies ends finishes the album at its peak, and shows off just how much Bootblacks are able to deliver in swift and slick order.