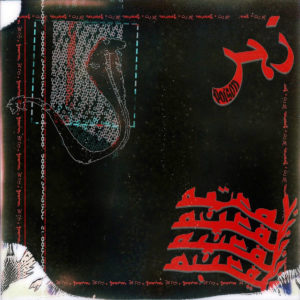 Aurat
Zeher
self-released
While LA's Aurat haven't been active for a terribly long time, their voluminous self-released discography and conversance with a range of darkwave and post-punk sounds still makes it surprising that we're only catching wind of them new. Their 2020 LP Zeher does a great job of bringing newcomers like ourselves up to speed, and delivers some driving and evocative tunes in the process.
Much of Zeher is comprised of a rough and tumble vision of darkwave, with sharp vocal wails standing in contrast to distorted, ominous programming and heavy bass. Proper opener "Saanp" gets the aesthetic across, with stacatto rhythms offset by deep sampled wheezes and strident vocals. It's a bit reminiscent of Bestial Mouths perhaps, but there's plenty more going on despite a short run time. The anthemic "Rehem" has classic first wave goth rock drive down pat, while "Raat" embarks on some swirly deathrock gloom. Elsewhere, the dead simple synth programming of "Nasha" recalls Snowy Red.
Given the variety of instrumental stylings Aurat try out, it's the vocals of frontwoman Azeka Kamal which ultimately tie Zeher together, but there's just as much range in her work. The lush swoops of "Rehem" and "Waiting For You" weave over galloping beats, alternately punching in alongside the beat and taking off to fly far above it. While "Nasha" and "Aana" position Kamal deeper in the mix, amidst the rest of the record's atmospheres and textures, she's still able to hold the tunes together. The lion's share of the record is sung in Urdu, but even if you're not sure of the specifics, the emotion's always clear.
Aurat's recently expanded from a duo to a full four piece and look to be ramping up activity despite COVID. A record like Zeher shows off a desire to take on more ambitious structures and styles than their early work, and thankfully in Kamal they have a commanding enough presence to marshal those aims and direct them with conviction and charisma.