If you've ever enjoyed the works of Claus Larsen, either as Leaether Strip or in one of his many other musical incarnations, we would ask you to please consider joining us in making a donation for the hospice care of Claus' husband Kurt. Claus has been very open about how much of his work in recent years has revolved around providing the best care possible for Kurt, and with the situation being what it is now, it would be great if fans of industrial and dark electro could help ease some of that burden so Claus can concentrate on spending time with the love of his life. You can give via the link above, or by buying anything from Claus' Bandcamp.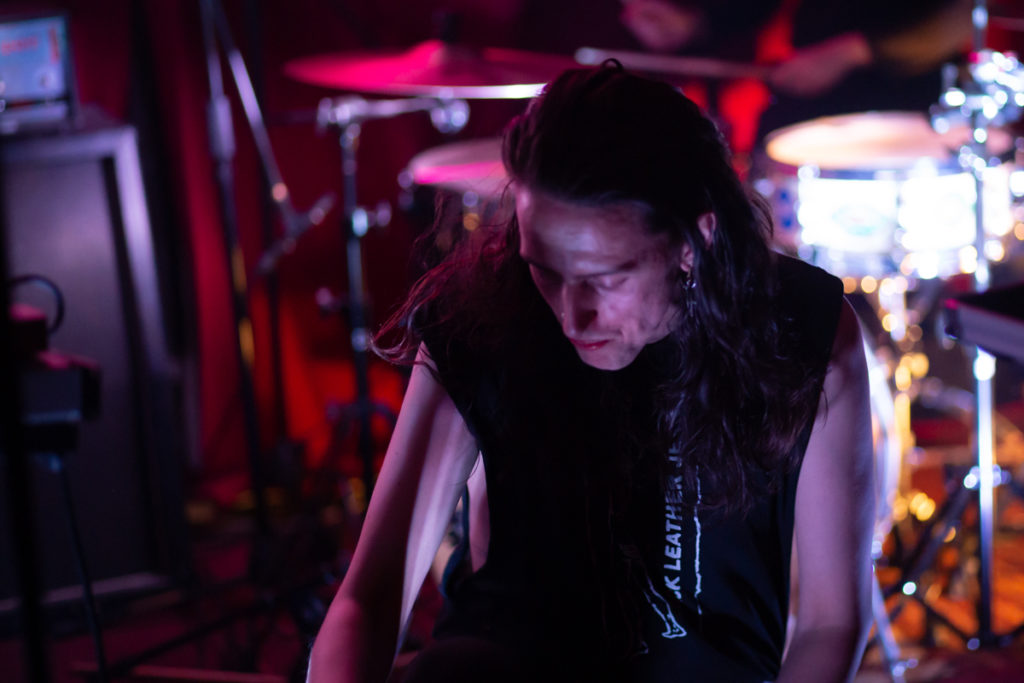 Ashbury Heights, "Spectres from the Black Moss"
A new Ashbury Heights joint is always cause for celebration 'round these parts; the Swedish project has been a long time fave of the Senior Staff and their 2018 album The Victorian Wallflowers was our favourite of that year. New cut "Spectres from the Black Moss" is intriguing for a number of reasons, not the least of which is the return of original vocalist Yasmine Uhlin (who has been doing live stuff with the band since the departure of vocalist Tea in 2019). She acquits herself well on the track, a shined up demo from a few years back, in which project director Anders Hagström directly addresses his struggles with mental health and the ups and downs of medication. We certainly wouldn't object to a new album in 2021.

IV Horsemen, "Foil Alloy"
IV Horsemen teaming up with Fleisch seemed a layup when it was announced a few months back. Heavy duty techno body music is where the Berlin based label lives, and France's IV Horsemen have been coming hard and heavy for the past couple of years. Tunes like this from new EP Human Crash bring all the anxious basslines you could want, along with some whiffs of black metal distortion and a pinch of the old-time rave wooziness which the sorely missed Fostercare project delivered.

Selofan, "Auf Deiner Haut"
For the better part of the last decade Greece's Selofan have been plying some of the most classic Euro-styled darkwave going, producing record after record of gloomy synths, austere vocals and big minor key hooks. If you're like us and haven't paid as much attention the duo as you should have, then the tracks they've released from forthcoming LP Partners in Hell should serve as a wake-up call; "Auf Deiner Haut" and "There Must be Somebody" are timeless, gothic (in the traditional sense) and above all catchy as all get out.

Tineidae, "Stray"
So just a couple of months after gushing on about how Tineidae has shifted into a considerate and melodic ambient project capable of taking on ambitious cosmic concept records, we get a single like this which completely torpedoes that take on the Ukrainian act. Nothing but pure oontz on display in the A-side of this new two-fer, which should have psytrancers and acid-heads alike reaching for bottled water after a few minutes.

Lonesaw, "Barbed Wire Church"
A tip of the fitted baseball cap to friend Adam Williams of the venerable amodelofcontrol.com for the heads up on Lonesaw. This UK industrial act is making some ludicrously intense material in a classic industrial experimental vein, all livewire tension and racing heartbeat drums until the track explodes itself to pieces. From the sounds of things this act are planning a full studio recording late this year (to accompany the noisy live EP from back in May), we'll be watching.

Qual, "Hell's Door"
We don't mind telling you that in the Before Times, Qual's Cyber Care was one of our at hand club records of 2019 and 2020. William Maybelline has zeroed in on a relentless and stripped down expression of dark electro and EBM which is perfectly suited to the gloom of his regular work in Lebanon Hanover. Even when he's not lending nihilistic vocals to Qual the raw punch of the material still gets it over, as in the case of this instrumental track on a new X-IMG comp.