Hey future people, welcome our first post of the year at I Die: You Die! As I sit here in the HQ typing this up on NYE in anticipation of the miserable hangover I will no doubt still be nursing come the time you read it, I can't help but wonder what 2012 may hold for all of us. Aside from a slew of anticipated records from folks we already know we like (some of which we'll be discussing in our feature this week), what new artists will emerge? How awful will the new :Wumpscut: be? Will a //TENSE// LP see the light of day? These are the kinds of questions that keep me awake at night, which some might say is ridiculous and pathetically obsessive. Not me though, I'm barely capable of the kind of self-reflection it takes to decide what I want on my sandwich, much less delving into the source of my preoccupation with this music. I digress.
Even in this new and uncertain time, your faithful friends here at ID:UD are on the lookout for stuff you may not have heard yet, so we thought it appropriate to kick things off with some cool newish songs that popped up close to the end of last year. Here we go 2012, show us what you got!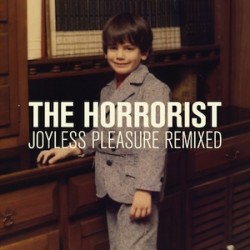 The Horrorist, "I Stand With You (Haujobb remix)"
Dejan made specific mention of his enjoyment of Oliver Chesler's work in our interview with Haujobb, and with The Horrorist showing up as a remixer on the Dead Market single it was a pretty sure bet we'd be seeing the mighty 'Jobb return the favour soon enough. I haven't had the pleasure of hearing Joyless Pleasure, the 2011 album the original version of this came from, but the line-up for it's remix album is killer, including Steinkind, Millimetric and People's Theatre amongst others. Love the stilted feel of this track, like it's going to run off the track at any moment but keeps chugging along in desperation.
The Horrorist – I Stand With You (Haujobb Remix) by idie:youdie
Architect feat. Frank Spinath, "Pieces of Me (Christmas Valentines mix)"
In case you were wondering, our Daniel Myer fanboyism shows no sign of abating in 2012. Sunrise, sunset and all that. This was a weird coincidence actually, in that we were just talking about Frank Spinath, and how we really like his work but don't bring it up on ID:UD that often. Then out of the blue, a new Architect track with him on it shows up. One of Architect's principal defining factors has always been that it's an instrumental project, so the thought of Myer using guest vocalists is a little odd, but judging by this ultra-smooth result it could make for a hell of an album.
Architect – pieces of me christmas valentine mix by dmyer
Society Burning feat. Everything Goes Cold, "Hell is Here"
Imagine my surprise when I found out that American Coldwavers Society Burning were putting out new material, and that it had flown under my radar entirely. I used to bust out tracks from their Tactiq album all the time back in my college radio days, always thought their programming was above average in industrial rock. Their new EP Nausea Ad Nauseum features remixes of songs from their 2010 album Internal Combustion and this track, which has a very nice vocal contribution from Eric of Everything Goes Cold. Grab it via Bandcamp for $2.50, which is a pretty good bargain for 7 songs. Oh, and check out the video for the title track, it's pretty dope!

Autodafeh, "Walk the Lie"
ADF put out a very enjoyable LP last year (in fact it made our honourable mentions for 2011), and apparently are gearing up for another in 2012, with several new songs (and a slick new logo) turning up on their Soundcloud account over the Holidays. All talk of the obvious Front 242 influence aside, I love mid-tempo dancefloor songs, and they do that often, and well! This is my fave of the new stuff, but the other songs ("Step Up, Step Down" and "Getaway") are equally promising.
Walk The Lie by autodafeh
Dead When I Found Her, "Kill to Cure"
When I think of Portland's Dead When I Found Her, two things come to mind: 1) his very progressive and interesting take on post-industrial in the late-eighties Skinny Puppy style and 2) his excellent series of cover songs which he puts up for free on Soundcloud. Combine the two and you got a pretty fine little post-holiday gift. For those that don't know, "Kill to Cure" was played a bunch on the Head Trauma tour, but never recorded by SP and has only ever been available via live bootlegs, which makes this whole endeavour even more impressive. If you're interested in the project's original material, there's also a cool new song "New Age of Reason" available on Artoffact's free to download label sampler (which also features lots of tracks from some of our favourite albums of last year). New album from DWIFH soon?
Kill To Cure (Skinny Puppy Cover) by deadwhenifoundher