We have a pretty cool commentary podcast to offer folks this Thursday, featuring a track by track commentary from the artist themselves. No hints apart from it being a new record by a longstanding artist we have a lot of respect for. We hope you'll tune in on Thursday, and check out these tracks in the meantime!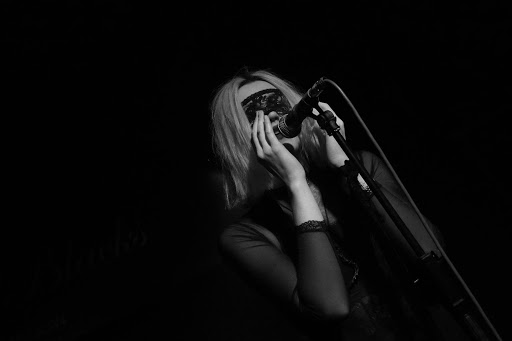 Portion Control, "Telekenesis v.2"
One of the few but varied bright spots in 2020 has been the return of OG UK post-industrialists Portion Control, an act whose history in Our Thing stretches back decades and has taken on numerous and varied forms in that time. The LP they put out Head Buried was working the same mean body music flavoured grooves they've been engaging with since the millennium ticked over, but also featured some broader electronic experimentation; new EP Seed EP1 continues in that vein but with the edge ground to max sharpness. Check "Telekinesis v2" for a sample of how undulled by time these cats remain.

The Wake, "Hammer Hall"
The surprise reemergence of classic second wave goth rock act, Columbus' own The Wake (not to be confused with the excellent jangly Factory band of the same name) has taken us by surprise, and the first track from forthcoming third LP Perfumes And Fripperies has all of the drama, excess and hooks we'd hope to get from the crew who gave us stone classics like "Christine" and "Nazarene" way back when. The change in Troy Payne's vocals is an especially pleasant surprise, showing some new character and subtlety.

Stabbing Westward, "Burn"
As we said on Twitter when this dropped as part of the excellent Cold Waves 2020 compilation, are you even a nineties kid if you don't get a bit of a rush from Stabbing Westward covering The Cure's "Burn"? Okay sure some of you reading this are probably too cool to admit you like it, but the 2020 line-up of SW who gave us the thoroughly enjoyable Dead and Gone EP have dialed into a dramatic industrial rock sound that suits the number perfectly. BRB, dreaming the crow black dream.

Haus Arafna, "Kreise Um Das Nichts [Rauschen in der Nacht]"
Just in case you were feeling a bit too cheery over the past week or two (and hey, with recent events why wouldn't you be?), the unremitting nihilism of Haus Arafna has reemerged from its stygian German crypt. Asche is the duo's first LP in nine years, and from quick passes at tracks like this it's offering a suite of power electronics pieces with their innards scraped out by death industrial rebar. Not for the faint of heart – not then, not now.

Balloon Boy, "Rebirth"
Something brand new from underground tastemakers DKA Records, it's the forthcoming debut EP from New Orleans based project Balloon Boy. The analogue darkwave sounds of the duo – Nannen Gatchell and Kelby Clark who played together in post-punk act Smiler – were originally recorded in 2016 and promptly lost. Now in 2020 the project has recorded new vocals and are releasing a self-titled cassette showcasing their thick, cavernous sounds fit for dancefloors and haunted houses alike. Expect a review of the release in Observer when it drops October 2nd.

Witch Of The Vale, "Boys Of Summer"
Whether you hold truck with the concept of 'guilty pleasures' or not, the Senior Staff will admit to having cranked "Boys Of Summer" over lagers while feeling wistful after another episode of the podcast has been recorded. Scottish act Witch Of The Vale offer an elegant, cinematic, and dark take on the Mike Campbell/Don Henley AM staple, zeroing in on its doomed nostalgia. In honour of the band's Loch Lomond heritage, we're sipping a single-cask Croftengea as the fall and this track envelop us.