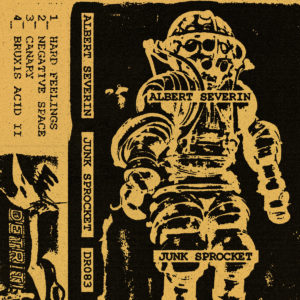 Albert Severin
Junk Sprocket
Detriti Records
Just a few months after the release of the Athletics EP, multi-faceted electronic project Albert Severin is back with another 4-track release on the always prolific Detriti Records. Like the last tape, the songs on Junk Sprocket are stylistically varied, consistent within themselves but belonging to a broad range of post-industrial styles. Opener "Hard Feelings" starts with some EBM bounce before a wave of big synths and synth percussion blow the track up to larger proportions, ushering in metallic hits and samples for additional retro flair. "Negative Space" is a pleasingly off-kilter acid house track, complete with house piano, gnarly peaked synths and vocals reverbed to unintelligibility. "Canary" downshifts back to funky electro sounds before closer "Bruxis Acid II" shuts the release down with a techno-industrial rager that slides some spooky synth work between its cascaded kicks and bassline. For its variety the EP works well, finding commonality and contrast in each outing.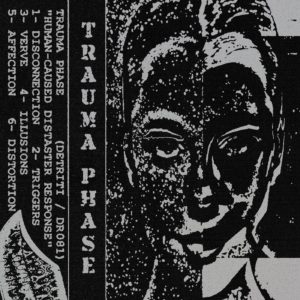 Trauma Phase
Human-Caused Disaster Response
Detriti Records
The debut LP from Poland's Trauma Phase was a pleasant surprise earlier this year, combining classic dark electro programming with the funkier sides of new beat and EBM. Hot on the heels of The Origin Of Social Disabilities, the project's new EP keeps the intensity and sense of fun of its predecessor going while opening things out a tad. More so than the LP, Human-Caused Disaster Response is conversant with the last couple of decades of dark electro and EBM – the staccato programming and slickly arranged, icy leads of "Disconnection" have as much in common with [:SITD:] as A Split Second. Weaving just a hint of classically light disco into the otherwise massive thump of "Verve" also plays out well, reminding us of the alternate history of dark electro plotted out in Distorted Memory's criminally overlooked The Eternal Return, or the excellent Molasar material. No track on the tape ever wears out its welcome, and plenty of bubbling synths and canny percussion are jammed into the corners, adding expressive colour without ever becoming showy or decadent. Taking these two releases together, Trauma Phase have released nearly an hour of some of the freshest and most immediately enjoyable dark dance music of the year, full stop.