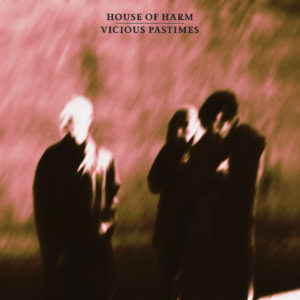 House of Harm
Vicious Pastimes
Avant! Records
House of Harm's debut LP Vicious Pastimes works both ends of the dreamy post-punk spectrum to terrific effect. One the one hand, the Boston based trio have an excellent grasp of the uplifting and joyous side of things, channeling any number of crossover 80s dreampop and crossover acts. They also show themselves to be adept at the gloomier iteration of the sound, offering up no less catchy but far more dour numbers. It's by no means an original blend of sounds and moods, but the band's songwriting and knack for hooks and choruses easily gets them over.
The brighter face of the record shows exactly how much House of Harm can wring from simple arrangement decisions. The verses on "Catch" start as little more than vocals and straight kick-snare drum programming before layering in bits of guitar filigree and synth, leading into the chorus' weightless and jubilant chorus. The new version of the previously released "Always" goes to the classic "use the chorus section as the intro" trick to wonderful effect; the song is an instant blast of youthful exuberance from the first moment you hear it and the band wisely saw no advantage in delaying that sugar-high gratification.
On the other hand, the band are extremely down to mope. The album's title track is the best example of them at their most striking and glum, with shimmering swathes of guitar and quick synth stabs punching in the chorus as the vocals get pushed into a higher and more archly dramatic register. It also helps that the track is damnably catchy, and should easily work in any setlist of comparable dancefloor ready overcast rock sounds. If House of Harm's template is sounding somewhat familiar you shouldn't need to look much further than "Against the Night" for a nice indicator of influences; the light-to-medium cribbing from The Cure's "100 Years" shows their allegiance to the all time kings of dismal but catchy pop songs.
Vicious Pastimes ends up being a pretty excellent record all things told. Both by virtue of its consistency – there's no duds here and deeper cuts rise up in appeal on repeat listens – and by sticking to relatable and appealing moods and structures. There's a sort of escapist nostalgia at play on it that seems appropriate for the oncoming change of seasons, and House of Harm revel in it unselfconsciously. Recommended.