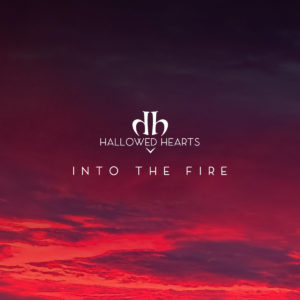 Hallowed Hearts
Into the Fire
self-released
Hallowed Hearts is the project of two North American synthpop music vets, Alex Virlios (Blue Images, ex CRTL and Provision ) and Andrew Sega of Iris. Their shared pedigree might suggest a brighter take on the current wave of gloomy post-punk, and while the record makes a virtue of Sega's clean and tasteful electronic production and Virlios' measured vocals, it's still a rather moody rock affair that isn't afraid to draw on goth influences.
Musically Hallowed Hearts' songs rely on understated drum and synth programming and chiming guitars, all geared to emphasize melody and accompany Virlios' rich vocals. It's a formula that is successful specifically because of the confidence with which Hallowed Hearts apply it across the entirety of Into the Fire; Sega and Virlios are experienced writers and performers and at no point do they allow any errant production or delivery choice get in the way of their songs. That allows the simple pleasures of their choruses and melodies to shine, as on the melancholic pre-release single "Lost" and album opener "Blind". The latter and its follow up "Electric" are especially instructive when it comes to examining Hallowed Hearts' work – they read fully as a second wave goth rock numbers complete with driving basslines, the electronic drums and synth parts all arranged to allow them to, well, rock.
Hallowed Hearts are also quite good at integrating a wide spectrum of stylistic markers into their material, the thoughtfully drawing on ideas from across the post-punk wave spectrums. It's actually a lot of fun to trainspot the specific traditions the band are working with; check out the early U2-style strumming and dive-bombing guitars on "Strange Land" and the new romantic allusions on the bouncy "Change in Motion". Virlios stays in his vocal lane pretty much throughout, his natural tenor totally suited to the delivery of songs like "Crash" where he conveys both longing and disappointment.
If the LP has a flaw, it's that it lacks an absolute standout killer single: although it's a remarkably consistent album of many sophisticated pleasures, nothing leaps off the page as a must-spin club number or playlist starter. Then again, Hallowed Hearts have dropped their debut mid-pandemic, when dancefloor appeal is largely secondary to listenability and craft. It might be the perfect time to listen to a record like Into the Fire, where Hallowed Hearts' artful composition and rendering can have the spotlight.