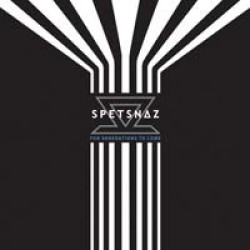 Spetsnaz
For Generations to Come
Scanner
Well before I knew anything about anhalt, neo-oldschool and the trad body music scene, I knew about Spetsnaz. Their 2003 album Grand Design (or more accurately the 2004 re-release on Out of Line) existed in a vacuum as far as I was concerned: there were no other acts trading in classic EBM, or at least none I was in a position to acquire music by. In the era just after the collapse of futurepop, their throwback sensibility seemed especially refreshing. After all, the templates established by Nitzer Ebb, Die Krupps and Pouppée Fabrikk had seemingly been laying fallow, long since abandoned by their creators and their devotees. A little back-to-basics muscle n' hate was just what I wanted.
It's with that in mind that I approach For Generations to Come, the new LP from Pontus Stålberg and Stefan Nilsson. Whether by the propagation of their genre or via the increasing ease of access to music from all over, in 2013 I'm positively immersed in trad-style electronic body music, more than I can reasonably listen to despite my sweet tooth for the stuff. Trying to position Spetsnaz in that continuum proven to be a bit more challenging than expected; on the one hand, they're doing pretty much what they've always done, marrying bouncy rounded basslines to fast stepping drums with minimal synth accents, the sound that attracted me to them in the first place. On the other, there are no end of acts doing essentially the same thing, and many pushing the boundaries from the same starting point. How do Spetsnaz play the game minus my (mistaken) impression that they were the only ones on the field?
Not too badly as it turns out. Although there's no distinct evolution of the band's sound apparent in any of the record's thirteen tracks, their talent for writing stripped-down EBM songs is still evident. Tracks like "Free-Fall" and "Mine" come out of the gate at a healthy gallop, wasting no time in setting up compact and rapidly cycling basslines, backed by muscular kick-snare patterns taken directly from the body music playbook. The main variations come in the form of tempo shifts, occasionally upping the bpm as on the nimble "Unwards" or slowing things down to groovy and menacing, like the ornamented "Dead Man's Eyes". Embellishments aren't completely absent, taking the form of the odd effects punch-in and the occasional addition of a lead synthline or pad but make no mistake, it's the rhythms you're meant to be focusing on, and moving to.
The vocals from Pontus haven't changed noticeably either, not that I can see much advantage in him altering his approach. He sits comfortably in the the sweet spot between tough guy and manly crooner, a neutral position that allows him to ramp up to aggressive shouting or lay back to deliver a melodic chorus, often in the space of the same song. He still indulges in the occasional McCarthy-esque yowl, a tic that fits just fine within the project's brand of Ebb worship. Yeah, it's not hard to spot the influences, but it never really has been with these Swedes. If nothing else the current abundance of projects similarly infatuated with the small pantheon of EBM progenitors has diluted some of that worship down to the point where it can squeeze past derivative and into homage.
I tend to fill my reviews of neo-oldschool with caveats about the intended audience and talk about the value of exploring form over innovation, and this one isn't an exception really. What can I say, I like this particular style of EBM, and while it doesn't approach the heights some recent albums by SPARK! and Restricted Area have achieved, it's still got some motor to it and enough gas in the tank to take me for a few trips around the block. For Generations to Come is Spetsnaz making no concessions or attempts to link themselves to any other tradition: they're doing exactly what they've always done, and they're good at it. Why wouldn't they stay the course?