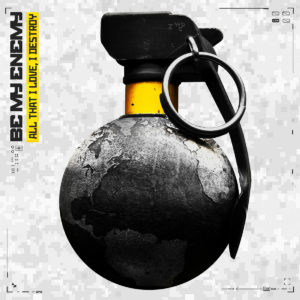 Be My Enemy
All That I Love, I Destroy
Armalyte Industries
All That I Love, I Destroy is the most diverse album Phil Barry has yet produced as Be My Enemy. The Cubanate guitarist's solo-work has always been good for tight riffs and sharp drum and synth programming, with two LPs of pleasingly modern industrial rock to show for it. Now with his collaborator Keef Baker from the excellent industrialized post-rock Word Made Flesh aboard, Barry is pushing Be My Enemy into some distinctly new territory.
Those looking to BME for chuggy stompers will still find plenty of them here. Despite not being a cover of the Killing Joke number, "Wardance" has something of that band's legendary punk thrash threaded into it with thudding kick and cymbal patterns locked to the rhythm track while a thrumming bassline creates a deep groove. "Bad Blood" is driven by a pumping synth bassline that serves as a base for Barry's sneering vocals, samples and big blasts of processed guitar. And closer "Destroyer" is an ever climaxing mix of chirping synths and big churning guitar noise, building towards a divebombing climax. There's plenty of variety between even the most straightforward numbers in terms of style and execution, and that keeps them distinct and memorable between listens.
That said, All That I Love, I Destroy shines when it tries different and dynamic styles of arrangement. "Disintegrate With Me" moves at a crawling tempo that perfectly matches the low key menace of its skeletonized verses, with barely a drum machine and a whispered vocal audible before the song starts to build up layers of noise and static that eventually dissolve everything away. "Be Careful What You Wish For" works a groovy dub rhythm that could almost be chill, if not for the massive pillars of delayed and processed sound that blast through it, with guitar providing pure texture rather than trad riffing or melody lines. Penultimate track "Ray's Hallucination" works similarly but goes even further into dubby ambience before machinegun drums and drawled synths take things over. It's a great look for the project, and the counterpoint to the more conventional rock-oriented numbers.
Barry and Baker's efforts as Be My Enemy bear particularly sweet fruit on All That I Love, I Destroy; it's a record that expands the purview of the project while still delivering the big industrialized guitar thrills that have defined the project up 'til this point. It tries new things and sticks the landing each time out, fitting each stylistic experiment firmly within Be My Enemy's sound.