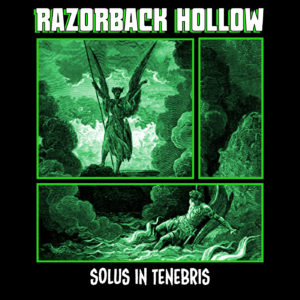 Razorback Hollow
Solus in Tenebris
self-released
Daniel Belasco's Razorback Hollow project was originally positioned as a throwback industrial counterpart to his main output as classic synthpop project Glass Apple Bonzai. The project's first LP of original material Solus in Tenebris finds Belasco exploring a wide range of sounds, from classic body music to sample-laden soundscapes through classic post-industrial dancefloor sounds. Each excursion is tied together by Belasco's distinctive production sensibility and grasp of composition, elevating it from simple style pastiche into interesting explorations in their own right.
The new version of "The Angel of Blood and Fire" exemplifies Belasco's approach with Razorback Hollow; while the track's back beat and extensive dialogue movies samples summons the groove of style classics like Ministry's "You Know What You Are" to mind, his distinctive baritone and shimmery synth leads give the song a really nice melodic feeling. Even when gearing his voice into a harder and more rough-edged form on "Philanthropede" he throws in some nimble bits of syncopated vocal phrasing that have great interplay with the song's prominent bass programming and rhythmic vocal samples. While not totally the same as the soaring and nostalgic approach that he uses on Glass Apple Bonzai – although he comes close on the minor key uplift of "Collapse" – it's just solid songcraft that goes beyond the use of vintage sound design and production choices.
It's a technique that serves him in good stead on some of the LP's most interesting excursions. "Quietly Staying Alive" is all funky bass and chopped vocal samples that summon up memories of Severed Heads and Cabaret Voltaire, but it's the clever use of arpeggiated synths that dot the percussion programming and sample placement that leave the biggest impression. Both "Robots of Less Importance" (which features an excellent guttural guest vocal from Kisho Trioxin of The Electric Dead) and "Cold War" (with an effectively weary vocal from Ego Likeness/Stoneburner's Stephen Archer) use interesting hollow leads that allow the space for their alternately elegiac and aggressive moods to be conveyed by the voices both sung and sampled on each track. The project goes full classic EBM on Bandcamp bonus track "Hey! Fuck Off, Buddy!" but forgoes singing in favour of using samples to decry police violence and racism in a specific examination of the shooting death of Philando Castile.
Like all of Daniel Belasco's LPs Solus in Tenebris has a lot of meat on the bone, while maintaining a pleasing sense of listenability. As genre exercises go it has a lot of heft and show a not totally unexpected but entirely welcome side to a distinctive producer-performer's sensibility.