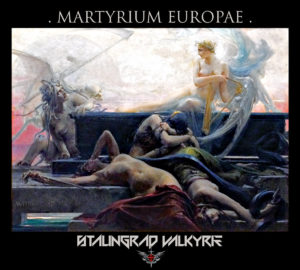 Stalingrad Valkyrie
Martyrium Europae
Twilight Records
When Angelo Bergamini and Elena Alice Fossi unveiled their Stalingrad side-project in 2002, the distinction between its combination of martial industrial and grand, sweeping soundtrack vistas and their primary work in Kirlian Camera was recognizable, yet subtle. Self-described as "pompous, shamelessly uncool, heart felt b-music", Court Martial eschewed traditional songwriting structures a bit more than KC releases, but its combination of stoicism and enraptured beauty was of a piece with material from Pictures From Eternity and Erinnerung. Now re-emerging unexpectedly with a slightly reworked name, Stalingrad Valkyrie's second LP is notable not only for its demonstration of Bergamini and Fossi's talents for neo-classical composition, but also for bringing into relief how Kirlian Camera has changed as a musical entity over the past two decades.
Court Martial more or less coincided with Fossi joining Kirlian Camera and eventually becoming the project's second permanent fixture, after years of it operating as Bergamini collaborating with on-again-off-again members. As we've discussed at length on this site, Fossi's presence has driven the band into ever-more lush and luxurious darkwave, with tracks like "Nightglory" and "Odyssey Europa" representing the apogee of that style. Martyrium Europae is something else entirely, with Fossi and Bergamini taking some of the studiocraft of the intervening years and using it to reach new heights upon returning to a more pensive style.
The military fanfares and general bombast which guided the earlier Stalingrad material are still here, as are the impressionistic classic film score sounds. But rather than being separated into distinct tracks, they're often bridged together, as on "Heiliger Regen". "Das Gold Der Dunkelheit" fuses film noir brass and strings with icy klaxons and drones, while "No Absolution" reads like a neo-classical take on a Bond theme (for which there's precedent in Fossi's back catalog). Martyrium Europae knows when to hold back, as well. It yields plenty of space to regularly allow Fossi's voice – still one of the most powerful and affecting in dark music – to stand at the front. The weary, crepuscular sweeps of "The Black Mother" offer an ideally subdued and elegant platform for Fossi to shine.
Martyrium Europae has the uncanny sense of being a record from an alternate timeline, one in which Fossi and Bergamini's collaborations guided them down a very different path than that they pursued as Kirlian Camera. While whispers of the sort of programming that guided records like Coroner's Sun and Nightglory can be found here and there ("Prayer Detector", "War Aurora"), on the whole it's a very different record than the sort we've come to expect from the duo, but one with welcome force and richness. Recommended.